Alegria (JOYFUL TIME) Essential Oil Blend
30030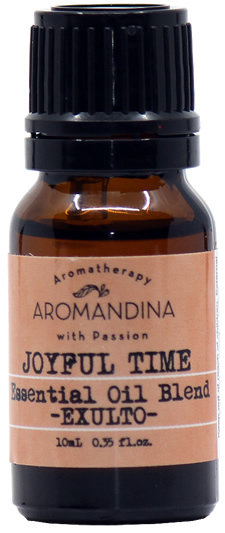 About JOYFUL TIME (Alegria) Essential Oil Blend - EXULTO
Keep depression, grief, and negative emotions at bay with this uplifting blend. This essential oil blend provides emotional well-being and works to cheer up your mood and brighten your day. A happy mind is a key to happier relationships and success.
The bright scents of this aromatherapy blend are very helpful in cases of breakdown, grief, dejection, negativity and acute depression.
Bright and cheerful oils like Clary Sage, YlangYlang, and Litsea Cubeba make sure that elements like grief, dejection and depression don't come anywhere near you.
With this happy blend, happiness is just a sniff away.


How to Use JOYFUL TIME Essential Oil Blend
You can use it to boost the energy around you. When things start to get rough at the office, put 5 drops of Joyful Time onto your aromatherapy diffuser, as the scent works its way around the room, you'll notice a definite change in your coworkers' attitudes!
Joyful Time can also make you a great host. The next time you've got guests coming over have a few aromatherapy burners on hand. You'll be amazed at how much fun people have!
For apprehension and anxiety, combine 2 drops with 1 tablespoon of Therapeutic Carrier Oil and massage your solar plexus twice a day.
Put 2 drops on a tissue, close your eyes and inhale deeply three times. Fill your mind and heart with gratitude and embrace the joy of being alive.

Remember — you may not be able to keep "little things" from popping up and sending you into a bad mood. However, you don't have to live with those negative feelings! Instead, you can completely change your mood and uplift your emotional well-being quickly and easily with aromatherapy.
Ingredients
Clary Sage (Salvia sclarea) Essential Oil: It's an essential oil that's known for boosting moods and easing tensions. It's often given to people suffering from depression and mental breakdowns. Because it has euphoric qualities, it can create possitive mood changes!
Ylang Ylang (Cananga odorata) Essential Oil: It's the perfect complement to Clary Sage because it has "cooling" properties that work perfectly with Clary Sage's "heating" properties. Instead of creating euphoria, Ylang Ylang squashes strong negative emotions — like anger, frustration, and irritability.
May Chang (Litsea cubeba) Essential Oil: with a sharp citrus scent, it creates a refreshing aroma that instantly relieves stress and depression.
Methods of Use
*This statement has not been evaluated by the Food and Drug Administration. This product is not intended to diagnose, treat, cure or prevent disease

Available Sizes
0.35 fl oz - 10mL (0) 3.5 fl oz - 100mL (130) 1 fl oz - 29mL (20) 1.7 fl oz - 50mL (60)
We, at Aromandina, are dedicated to providing the purest and highest quality essential oils to our clients. All our essential oils come from organic or wild crafted sources which means that they are 100% free from harmful chemicals, pesticides, heavy metals and preservatives. We adhere to environmentally sustainable methods in all our processes. Essential oils from Aromandina are of the highest grade which renders them fit, safe and effective for therapeutic use.All of our essential oils are carefully screened for authenticity, purity and quality. We put in a lot of time and effort to keep up our promise of delivering nothing less than the best to our clients.
From Our Blog