Allergy Calm Essential Oil Blend
10010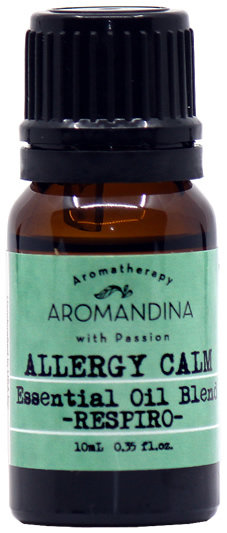 About Allergy Calm Essential Oil Blend
For respiratory conditions of a more chronic nature, helps to relieve symptoms of allergies like nasal congestion; sneezing; a runny nose; itchy, red or watery eyes. The essential oils in this blend can help you relieve symptoms of allergies. The oils in this blend have calming and anti-inflammatory properties. Keep this handy at all times to fight away the unpleasant surprises life throws up every now and then.

How To Use Allergy Calm Essential Oil Blend

Place 3-4 drops of Allergy Calm Essential Oil on a tissue. Place under the nose and inhale. Apply this method when you go outdoors.

Add about 3 drops of Allergy Calm Essential Oil to a bowl of warm water and inhale for around 10 minutes to ease blocked sinuses. Close eyes and cover head with a towel. Care should be taken to ensure not to burn with water or steam..

Put 3 drops of Allergy calm Essential Oil on a washcloth. Take the washcloth to the shower.While showering, place the washcloth on your chest and allow the heat of the shower to release the vapors of the essential oil.

After the shower, mix 1 tablespoon carrier oil with 6 drops of Allergy Calm Essential Oil and apply with a massage in the hollow below the collarbone next to the breastbone and your arms, from the wrist to the shoulder in upper movements.
Ingredients
Amni Visnaga Essential Oil: It has been used in the Arabic materia medica to treat asthma and heart problems since the time of the Pharaohs. It stabilizes mast cell response to allergens, prevents histamine release,decreases allergic reactions.
Hyssop decumbens (Hyssopus officinalis var. Decumbens) Essential Oil: Antiseptic, antispasmodic, traditionally used for respiratory and digestive complaints.
Chamomile, German (Matricaria recutita) Essential Oil: Analgesic, anti-allergenic, anti-spasmodic, antibiotic, anti-inflammatory.
Lavender (Lavandula angustifolia) Essential Oil: Antiseptic, analgesic, anti-spasmodic, anti-inflammatory, antiviral
Niaouli (Melaleuca viridiflora) Essential Oil: Balsamic, decongestant.
Palo Santo (Bursera graveolens) Essential Oil: Helpful in all chronic respiratory conditions.
Methods of Use
*This statement has not been evaluated by the Food and Drug Administration. This product is not intended to diagnose, treat, cure or prevent disease
I have used the Allergy Calm a few times already...I had a great experience with it. I actually had a really bad sinus headache and it was gone within the first half hour of diffusing it through the house. I also noticed that my kids were breathing well and actually slept really good through the nights I had diffused it...
Erin, Philadelphia, PA
Available Sizes
0.35 fl oz - 10mL (0) 1 fl oz - 29mL (22) 3.5 fl oz - 100mL (143) 1.7 fl oz - 50mL (66)
We, at Aromandina, are dedicated to providing the purest and highest quality essential oils to our clients. All our essential oils come from organic or wild crafted sources which means that they are 100% free from harmful chemicals, pesticides, heavy metals and preservatives. We adhere to environmentally sustainable methods in all our processes. Essential oils from Aromandina are of the highest grade which renders them fit, safe and effective for therapeutic use.All of our essential oils are carefully screened for authenticity, purity and quality. We put in a lot of time and effort to keep up our promise of delivering nothing less than the best to our clients.
From Our Blog