Autumn Blend
85005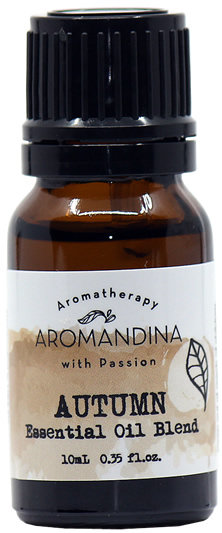 About Autumn Essential Oil Blend
Carefully blended with spicy warming oils like Cardamom and Ginger, this blend will warm up your entire environment, protect you from the colds and infections that always seem to be lurking this time of year, and allow you to enjoy everything that Autumn has to offer fully!
Warm and pungent scents like Ginger and Cardamom remove feelings of hopelessness and despair while enhancing focus and productivity. On the other hand, the zesty scents of Orange and Spearmint are naturally uplifting and lend clarity to the mind. Whether it is losing a few extra pounds in time for the holidays or saving up for a big purchase, these oils will give you the confidence and conviction to follow through.
These warming essential oils in one bottle are wonderful to have around the house this time of the year, and everyone in your family will love them.
How To Use Autumn Essential Oil Blend
Use this fantastic aromatherapy blend, not only for your physical health but also for your psychological health. This scent is perfect for an oil diffuser because it can fill a home with a warm sensation and warm spirits. Your family will love the smell and feel of your home, and you will have a natural immune system booster that will help you combat any negative changes that come with the change in seasons.

If you suffer from cold feet and hands, combine 3 drops of Aromandina's Autumn Blend with 1 teaspoon of Therapeutic Carrier Oil. Apply this warming blend to your whole body.
Ingredients

Cardamom (Elettaria cardamomum) Essential Oil: The oil's antiseptic effects helps the body deal with the common cold and bronchial ailments. It also helps with motivation and enthusiasm, two common attributes that decline in the cold weather.
Orange (Citrus sinensis) Essential Oil: Orange reminds us of warm times. One of its main effects in the Autumn Blend is too skyrocket your mood! Just a sniff of orange will create waves of happiness and calmness that will help you deal with fall mood swings.
Ginger (Zingiber officinale) Essential Oil: Ginger is especially good for the fall and winter. The strong spicy aroma of ginger energizes the body, even when the cold weather causes lethargy and loneliness. Gingers bold spike of a scent is most useful in combating low spirit feelings that come naturally with the change in seasons.
Spearmint (Mentha spicata) Essential Oil: Good nerve tonic that helps with mental fatigue and nervous stress.
Methods of Use
Safety:
Do not use in the bath as it may be irritant to the skin.

Available Sizes
0.35 fl oz - 10mL (0) 1 fl oz - 29mL (22)
We, at Aromandina, are dedicated to providing the purest and highest quality essential oils to our clients. All our essential oils come from organic or wild crafted sources which means that they are 100% free from harmful chemicals, pesticides, heavy metals and preservatives. We adhere to environmentally sustainable methods in all our processes. Essential oils from Aromandina are of the highest grade which renders them fit, safe and effective for therapeutic use.All of our essential oils are carefully screened for authenticity, purity and quality. We put in a lot of time and effort to keep up our promise of delivering nothing less than the best to our clients.
From Our Blog