Cardamom Essential Oil
90014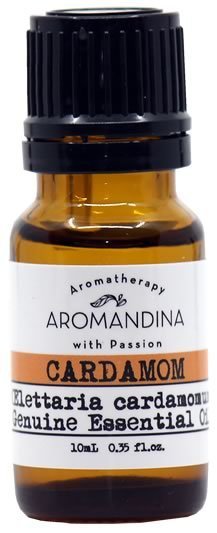 About Cardamom Essential Oil

Despite its strong and pungent fragrance, Cardamom essential oil is a non-toxic and gentle oil, that is at once mysterious and exotic. Cardamom essential oil's effect on neurotransmitters is very much like pharmaceutical antiemetics, which makes it very effective against nausea and vomiting associated with pregnancy and chemotherapy. The relaxant effects of cardamom essential oil come from its mild local anesthetic action, which makes the oil very useful in the management of strong intestinal cramps, common cold, and bronchial ailments.
Emotional Qualities
Clarifying

Stimulating

Enthusiastic

Encouraging
How to Use Cardamom Essential Oil
For respiratory system support: Useful for colds, coughs and general catarrhal conditions. Add 2 drops of Cardamom with 1drop of Rosemary in a bowl of hot water and inhale the steam for 10 minutes.

Combine 3 drops of Cardamom, 3 drops of Niaouli and 3 drops of Frankincense with 1 tablespoon of Therapeutic Carrier Oil. Massage your chest and back with this blend.

For digestive system support: Cardamom's potent carminative and antispasmodic properties help provide relief against indigestion, nausea, abdominal distension, colic, and flatulence, while its relaxant properties can provide a quick fix to annoying hiccups. To alleviate digestive discomfort, combine five drops of Cardamom, five drops of Orange, and five drops of Ginger essential oils with one fluid ounce of Carrier Oil. Apply the blend to the abdomen area and massage clockwise. For best results, apply a warm wet towel and a hot water bottle over the area. Rest for 15 minutes and feel your tummy slowly relax and heal itself.
For nervous system: Cardamom is recommended for nervous fatigue, depression, lack of motivation. It also helps with concentration and can be useful for headaches.

Put 2 drops of Cardamom essential oil on a tissue and inhale from it.

For sexual health: The spicy scent of cardamom stimulates the mind into clarity, yet is subtly sexual in nature, waking and enlivening the sensual side of a person. The erotic nature of this oil can be used to ignite dormant passions in relationships and encourage intimacy by removing barriers of frigidity and loss of libido.

Use in your diffuser and combine with Patchouli, Ginger and Ylang ylang.
Methods of Use

Dilute in carrier oil to apply topically.
Safety
Do not apply to or near the face of infants or children
*This statement has not been evaluated by the Food and Drug Administration. This product is not intended to diagnose, treat, cure or prevent disease

Scientific Name:Elettaria cardamomum
Country of Origin:Ecuador
Part of the Plant:Seed
Available Sizes
0.35 fl oz - 10mL (0) 1 fl oz - 29mL (39) 1.7 fl oz - 50mL (117)
We, at Aromandina, are dedicated to providing the purest and highest quality essential oils to our clients. All our essential oils come from organic or wild crafted sources which means that they are 100% free from harmful chemicals, pesticides, heavy metals and preservatives. We adhere to environmentally sustainable methods in all our processes. Essential oils from Aromandina are of the highest grade which renders them fit, safe and effective for therapeutic use.All of our essential oils are carefully screened for authenticity, purity and quality. We put in a lot of time and effort to keep up our promise of delivering nothing less than the best to our clients.
From Our Blog