Carrot Seed Essential Oil 0.35 fl oz - 10mL
90100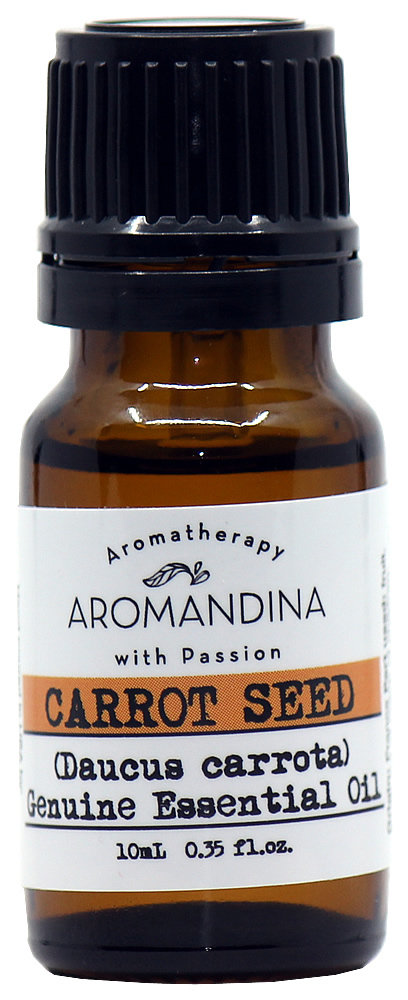 What is Carrot Seed Essential Oil?
Carrot seed oil is derived from the wild carrot plant (also called Dacus carota), which is commonly found in Europe. The small hairy seeds of the plant are crushed, and the oil is extracted through the process of steam distillation. Carrot seed oil is rich in carotene and Vitamin A, which makes it a wonderful elixir for the skin. Moreover, the spicy-earthy fragrance of the oil is quite delightful.
Carrot Seed Essential Oil: Uses in Aromatherapy
Mostly popular as a skin care oil, carrot seed essential oil is rather underrated when it comes to therapeutic benefits. Here are some ways you can use this oil in your daily self-care regimen.
Carrot Seed Essential Oil for Skin Care
Carrot seed essential oil has excellent regenerative properties which lend elasticity and tone to the wrinkled and aging skin. It also helps in providing relief from burns, skin rashes, sun damage, ulcers, dermatitis and skin discoloration. Simply mix a couple of drops of carrot seed essential oil to your regular moisturizer and apply all over your face and body. This is a quick and simple way to enhance your skin care regimen and maintain youthful, healthy skin in all seasons.
Carrot Seed Essential Oil as a Liver Tonic
Carrot Seed Essential Oil is very effective as a hepatic and helps detoxify the liver. When used after a severe bout of hepatitis or drug toxicity, it helps regenerate the liver cells.
Carrot Seed Essential Oil as a Diuretic
Toxins and hormonal imbalances in the body can cause swelling and water retention, leading to bloating and discomfort. Carrot seed essential oil is a safe and natural diuretic which improves renal function and helps expel excess water from the tissues. This property of the oil also makes it useful in the management of urinary tract infections.
Carrot Seed Essential Oil for Emotional Wellbeing
Inhaling carrot seed oil induces a feeling of calmness and confidence. It heightens perception and intuition, thus setting you up for a beautiful journey of self-discovery. Since it connects your energy to the root chakra, it helps you feel more grounded and aware of yourself. With the use of this oil, you will also find yourself becoming more empathetic and compassionate towards others.
Apart from these, there are several other therapeutic uses of Carrot Seed Essential Oil, some of which are listed as follows:
Helps relieve menstrual cramps and other symptoms of PMS. Also useful in regulating hormones during menopause.
Controls hypertension.
Provides relief from flatulence and indigestion.
Scientific Name:Daucus carota
Country of Origin:France
Part of the Plant:Seeds
Available Sizes:10 mL
We, at Aromandina, are dedicated to providing the purest and highest quality essential oils to our clients. All our essential oils come from organic or wild crafted sources which means that they are 100% free from harmful chemicals, pesticides, heavy metals and preservatives. We adhere to environmentally sustainable methods in all our processes. Essential oils from Aromandina are of the highest grade which renders them fit, safe and effective for therapeutic use.All of our essential oils are carefully screened for authenticity, purity and quality. We put in a lot of time and effort to keep up our promise of delivering nothing less than the best to our clients.
From Our Blog