Cedarwood Atlas Essential Oil
90016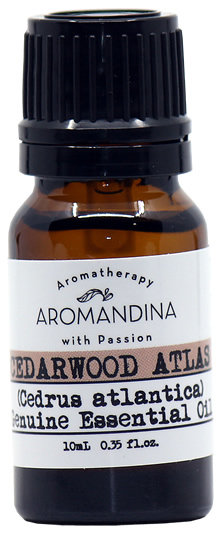 About Cedarwood Essential Oil

Known primarily for its fortifying and strengthening qualities, Cedarwood essential oil is widely used in the treatment of general lethargy, nervous debility, lower backache and poor concentration.
Another remarkable property of the oil is that it is a powerful decongestant which stimulates lymphatic drainage and encourages the breakdown of accumulated fats.
Its mild diuretic action helps combat fluid retention that contributes to weight gain, bloating and cellulite. Atlas Cedarwood also possesses astringent and disinfectant properties, which make it an effective digestive and respiratory tonic.

Emotional Qualities
How to Use Atlas Cedarwood Essential Oil
For urinary system: To alleviate pain and discomfort caused by urinary infections, combine 5 drops each of Cedarwood,Eucalyptus and Bergamot oils with 2 tablespoons Therapeutic Carrier Oil and apply to the lower abdomen and lower back.
For respiratory conditions: Cedarwood can be effective for catarrhal conditions, coughs and chronic bronchitis for its mucolytic effect. Use it in inhalations and baths.


For skin and hair care: Clinical studies indicate that Cedarwood may help reverse the effects of alopecia areata (bald patches) by 44% if regularly used in hair massage oil.
Cedarwood has a soothing action on the skin, and its anti-inflammatory properties are helpful in managing skin conditions like acne, infections, rashes, eczema, dermatitis, and itching.
It can even be used as a natural after-shave. Simply add 2-3 drops into 1 tablespoon of Golden Jojoba Oil and apply over the affected area.
For cellulite and weight loss: Cedarwood stimulates the circulatory system and counteracts water and lipid retention, which are common causes of weight gain.
Its powerful stimulant action draws out excess moisture and fat from the tissues, thus resulting in inch-loss. It also boosts metabolism and clears lymphatic blockages, thus detoxifying the entire system and inducing a feeling of "lightness." Combine 5 drops of Cedarwood with 3 drops of Grapefruit with 2 tablespoons Therapeutic Carrier Oil and massage your legs and abdomen once a day.


Atlas Cedarwood Essential Oil For Emotional Grounding: Whether it is a new life situation like marriage and childbirth or relocation to a new place, everyone experiences moments when they feel alienated or destabilized. Atlas Cedarwood provides the much-needed strength and confidence in times of crisis and sudden change. Its intense scent helps us stay firm and rooted even when external circumstances threaten our morale. It also helps dispel the fear that hinders our ability to realize our potential. On an everyday basis, Cedarwood can increase your endurance levels and help you stay more focused, energetic and hopeful. Put 2-3 drops on a tissue and inhale directly.
Methods of Use
Dilute in carrier oil to apply topically
*This statement has not been evaluated by the Food and Drug Administration. This product is not intended to diagnose, treat, cure or prevent disease

Scientific Name:Cedrus atlantica
Country of Origin:Morocco
Part of the Plant:Wood
Available Sizes
0.35 fl oz - 10mL (0) 3.5 fl oz - 100mL (97.5) 1 fl oz - 29mL (15)
We, at Aromandina, are dedicated to providing the purest and highest quality essential oils to our clients. All our essential oils come from organic or wild crafted sources which means that they are 100% free from harmful chemicals, pesticides, heavy metals and preservatives. We adhere to environmentally sustainable methods in all our processes. Essential oils from Aromandina are of the highest grade which renders them fit, safe and effective for therapeutic use.All of our essential oils are carefully screened for authenticity, purity and quality. We put in a lot of time and effort to keep up our promise of delivering nothing less than the best to our clients.