Chamomile, German
90010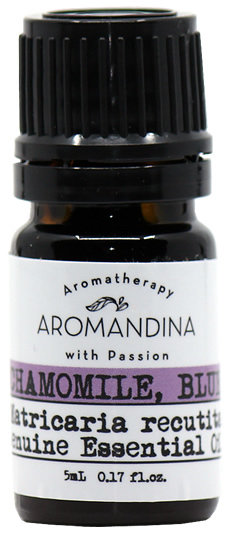 About German (Blue) Chamomile Essential Oil
Anti-inflammatory, calming to the nerves without being a sedative (great for kids). Very gentle oil for many skin conditions, digestive problems and stress.

The most important actions of Chamomile are soothing, calming and anti-inflammatory. The German Chamomile has greater anti-inflammatory properties due to its higher azulene content. Chamomile is used to treat any condition where inflammation is present. Chamomile can be used for any muscular pain and is particularly useful for period pain. it is a useful oil for children, and its toxicity levels are very low. The oils are useful for insomnia. With continual use over a period of time, Chamomile can reduce the appearance of couperose.
German Chamomile Essential Oil and the Mind

Harmonizing
Peaceful
Cooling
How To Use German Chamomile Essential Oil

For digestive support: Combine 3 drops of German Chamomile essential oil with 1 tablespoon of Therapeutic Carrier Oil and apply with soft massages on abdomen area. May be useful for treating colic, dyspepsia, and indigestion. It can also be useful for slow, painful digestion.

For nervous system support: Place 2 drops of Chamomile Essential Oil on a tissue. Place under the nose and inhale. The sweet, apple-like scent of Chamomile combines very well with citrus essential oils like Mandarin or Orange. Its calming, soothing effect is very useful for fretful, irritable individuals.

For skin care: After cleaning your face, combine 2 drops of German Chamomile Essential Oil, with 1 drop of Lavender essential oil and with 1 tablespoon of Golden Jojoba oil. Apply to face and décolletté. You can use this combination as your daily moisturizer. German Chamomile is recommended for sensitive skin and can help reduce redness of cheeks.

For urinary system support: Combine 3 drops of German Chamomile, 3 drops of Lavender, 3 drops of Bergamot and 3 drops of Tea Tree essential oil with 2 tablespoons of Therapeutic Carrier Oil. Apply this mixture with circular movements on the lower abdomen and lower back, twice a day.

For muscle and joint pain: Combine 5 drops of German chamomile and 2 drops of Peppermint with 1 tablespoon Therapeutic Carrier. Massage joints and muscles. Can be helpful for inflamed joints, inflamed tendons, sprains, and bursitis.
Methods of Use
Dilute in carrier oil to apply topically
Scientific Name:Matricaria recutita Essential Oil
Country of Origin:UK
Part of the Plant:Flower
We, at Aromandina, are dedicated to providing the purest and highest quality essential oils to our clients. All our essential oils come from organic or wild crafted sources which means that they are 100% free from harmful chemicals, pesticides, heavy metals and preservatives. We adhere to environmentally sustainable methods in all our processes. Essential oils from Aromandina are of the highest grade which renders them fit, safe and effective for therapeutic use.All of our essential oils are carefully screened for authenticity, purity and quality. We put in a lot of time and effort to keep up our promise of delivering nothing less than the best to our clients.
From Our Blog