Cinnamon Leaf Essential Oil
90018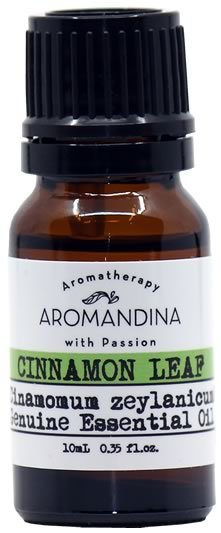 About Cinnamon Essential Oil
It enhances focus and alertness. Can assist with digestion and relieve exhaustion. Very antiseptic due to its high eugenol content.
It is a very strong antiseptic and has a tonic effect on the respiratory tract. It restores heat to the body. has a tonic effect on the whole body, particularly on the circulatory system.
Emotional Qualities
Invigorating
Strengthening
Benefits
Enhances focus and alertness. Can assist with digestion and relieve exhaustion.
Therapeutic properties
Anesthetic, antiseptic, antispasmodic, aphrodisiac, cardiac, carminative, emmenagogue, hemostatic, insecticide, stimulant, stomachic, vermifuge.
How To Use Cinnamon Essential Oil
For digestive support: Combine 3 drops of Cinnamon essential oil with 1 tablespoon of Therapeutic Carrier Oil and apply with soft massages on abdomen area. Cinnamon can be useful to calm spasm of the digestive tract and relieve conditions such as flatulence and colitis.
For immune system support: Dilute 2 drops of Cinnamon essential oil in 1 tablespoon of Therapeutic Carrier oil and massage feet and legs. Its warming nature can be used to relieve aches and chills in the early stages of colds and flu. This oil can be also beneficial during convalescence.

Safety
Dermal irritation. Dilute first before applying to the skin. Do not use in baths or shower.
Methods of Use
Dilute in carrier oil to apply topically
*This statement has not been evaluated by the Food and Drug Administration. This product is not intended to diagnose, treat, cure or prevent disease

Scientific Name:Cinnamomum zeylanicum
Country of Origin:Madagascar
Part of the Plant:Leaf
Available Sizes
0.35 fl oz - 10mL (0) 1 fl oz - 29mL (15) 1.7 fl oz - 50mL (45)
We, at Aromandina, are dedicated to providing the purest and highest quality essential oils to our clients. All our essential oils come from organic or wild crafted sources which means that they are 100% free from harmful chemicals, pesticides, heavy metals and preservatives. We adhere to environmentally sustainable methods in all our processes. Essential oils from Aromandina are of the highest grade which renders them fit, safe and effective for therapeutic use.All of our essential oils are carefully screened for authenticity, purity and quality. We put in a lot of time and effort to keep up our promise of delivering nothing less than the best to our clients.
From Our Blog