Citrus Delight Essential Oil Blend
30035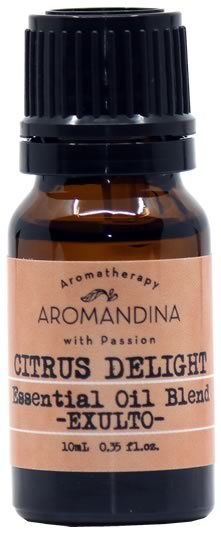 About Citrus Delight Essential Oil Blend
This fruity and citrusy essential oil blend is perfect for days when you feel low and lethargic. The oils contained in it help uplift the spirits, balance out emotions, refresh the mind and energize the body. Use it to combat symptoms of seasonal depression or simply to liven up your day.
Ingredients

Bergamot (Citrus bergamia) Essential Oil: Balances the mind and alleviates stress, anxiety, sadness, and anger. It also restores confidence and energy.
Lemon (Citrus limon) Essential Oil: Known to energize, rejuvenate and uplift
Grapefruit (Citrus paradisii) Essential Oil: Restores the body's natural balance and acts as a natural anti-depressant.
Methods of Use
Dilute in carrier oil to apply topically
Safety
Do not apply to skin to be exposed to sunlight or ultraviolet light; it increases the skin's photosensitivity. it may irritate sensitive skin.
*This statement has not been evaluated by the Food and Drug Administration. This product is not intended to diagnose, treat, cure or prevent disease
Available Sizes
0.35 fl oz - 10mL (0) 1 fl oz - 29mL (20) 3.5 fl oz - 100mL (130) 1.7 fl oz - 50mL (60)
We, at Aromandina, are dedicated to providing the purest and highest quality essential oils to our clients. All our essential oils come from organic or wild crafted sources which means that they are 100% free from harmful chemicals, pesticides, heavy metals and preservatives. We adhere to environmentally sustainable methods in all our processes. Essential oils from Aromandina are of the highest grade which renders them fit, safe and effective for therapeutic use.All of our essential oils are carefully screened for authenticity, purity and quality. We put in a lot of time and effort to keep up our promise of delivering nothing less than the best to our clients.
From Our Blog