Cypress Essential Oil
90022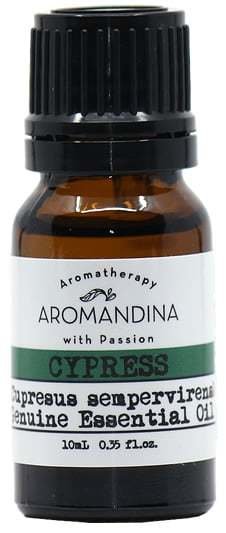 About Cypress Essential Oil
In Latin, Cypress is known as Cupresus sempervirens, which translates to "always alive." That translation couldn't be more accurate, because Cypress trees can live for up to 1,000 years! They are strong and majestic, always pointing towards the sky.
Cypress essential oil is just as strong. That makes it the perfect oil to use when you're facing a new challenge -- like a new job or the loss of a loved one. Its scent will keep you pointing towards the sky, instead of letting the hurdles of life drag you down.
Cypress essential oil assists in times of transition. It inspires generosity of spirit, confidence and assertiveness. It is a tonic for the circulatory system and can be useful where there is heat, redness, and swelling.
Cypress Essential Oil and the Mind

Inner Strength
Wisdom
Transition
Stability
How to Use Cypress Essential Oil
For varicose/spider veins: Simply mix 20 drops of Cypress with 4 ounces of Therapeutic Carrier Oil, 5 drops of Lemon and 5 drops of Geranium. Then, gently rub the mixture onto your varicose veins once a week.
For an even more soothing experience, soak a towel in hot water and another in ice water, and wring out the excess. Once you've applied the oil mixture to your legs, use the hot towel as a compress, and then switch to the cold towel. Do this for about 10 minutes, and you'll look AND feel better!
For hemorrhoids: You can use the same mixture above and it to your hemorrhoids three times a day. Be sure to drink plenty of water, too, for even more relief.
Also take once a day a sitz bath. Simply fill your tub with warm water to hip-level, add one teaspoon of the oil blend, and spend about 15 minutes soaking. Do this every day for the ultimate relief!

For respiratory problems: A single drop of Cypress oil can prevent a sore throat from turning into a full-blown infection. As soon as you start to experience that scratchy feeling, combine 3 drops of cypress oil with the juice of one lemon and 1/2 tsp of salt. Add this mixture to a glass of warm water and do gargles once or twice a day.


Methods of Use
Dilute in carrier oil to apply topically
*This statement has not been evaluated by the Food and Drug Administration. This product is not intended to diagnose, treat, cure or prevent disease

Scientific Name:Cupresus sempervirens
Country of Origin:France
Part of the Plant:Leaves
Available Sizes
0.35 fl oz - 10mL (0) 3.5 fl oz - 100mL (120)
We, at Aromandina, are dedicated to providing the purest and highest quality essential oils to our clients. All our essential oils come from organic or wild crafted sources which means that they are 100% free from harmful chemicals, pesticides, heavy metals and preservatives. We adhere to environmentally sustainable methods in all our processes. Essential oils from Aromandina are of the highest grade which renders them fit, safe and effective for therapeutic use.All of our essential oils are carefully screened for authenticity, purity and quality. We put in a lot of time and effort to keep up our promise of delivering nothing less than the best to our clients.
From Our Blog