Energia (ENERGY) Essential Oil Blend
60060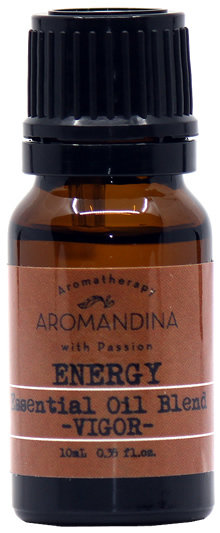 About Energy Essential Oil Blend
The essential oils in this blend infuse health, energy, and vitality in mind and body. The energy you need during the day, at work, while driving or at home. Can be helpful to relieve fatigue, nervous exhaustion, mental fatigue.
How To Use Energya Essential Oil Blend
In the morning, start off your day with the magic of this essential oil synergy.
Begin in the shower, by massaging the center of your back, where the kidneys are located. Rub the area with a washcloth to which two drops of Energy Essential Oil Blend have been added.
You'll feel a current of energy all through your body.

Ingredients
Rosemary (Rosmarinus officinalis) Essential Oil : Renews enthusiasm and boosts self-esteem. It provides mental clarity, stimulates of the central nervous system. Cephalic.
Litsea Cubeba Essential Oil: Refreshing, enlivening, joyful, rejuvenating.
Pine Essential Oil (Pinus sylvestris): Along with Rosemary, a very effective oil for fatigue and nervous debility. It's a positive oil that dispels melancholy.
Methods of Use
Dilute in carrier oil to apply topically
*This statement has not been evaluated by the Food and Drug Administration. This product is not intended to diagnose, treat, cure or prevent disease
Available Sizes
0.35 fl oz - 10mL (0) 1 fl oz - 29mL (20) 1.7 fl oz - 50mL (60) 3.5 fl oz - 100mL (130)
We, at Aromandina, are dedicated to providing the purest and highest quality essential oils to our clients. All our essential oils come from organic or wild crafted sources which means that they are 100% free from harmful chemicals, pesticides, heavy metals and preservatives. We adhere to environmentally sustainable methods in all our processes. Essential oils from Aromandina are of the highest grade which renders them fit, safe and effective for therapeutic use.All of our essential oils are carefully screened for authenticity, purity and quality. We put in a lot of time and effort to keep up our promise of delivering nothing less than the best to our clients.
From Our Blog