Fennel, Sweet Essential Oil
90030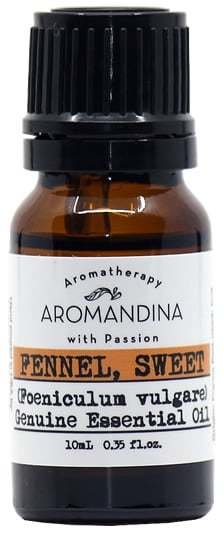 About Fennel Essential Oil
Fennel (Foeniculum vulgare) is a biennial or perennial herb that grows up to 2 meters high, and has fine, feathery leaves and umbels of golden yellow flowers. Although the plant is indigenous to Mediterranean countries such as Italy, Greece, and France, it is now widely cultivated across the world. Fennel's name comes from the Latin word 'foenum,' meaning "hay." There are 2 subspecies of fennel – Foeniculum vulgare var. dulce, known as sweet fennel and Foeniculum vulgare var. amara, known as bitter fennel. Sweet fennel is the preferred oil for use in aromatherapy, due to its more gentle nature. Fennel has found extensive mention in the culinary and medical history of Ancient Egypt, Greece, Rome, and India. In fact, the Greeks were among the first to recognize its gentle diuretic properties and used it as a slimming aid. They named the herb "Marathron," which comes from the word 'maraino,' meaning "to grow thin." Even Roman soldiers took advantage of Fennel's appetite suppressing properties during long periods of travel and religious fasts. Fennel was also believed to enhance strength and longevity, which is why athletes often used the seeds as a supplement while training for Olympic games. In India, even today, a concoction of Fennel oil and Dill oil is popularly used to relieve colic in infants.

Despite its incredible benefits, Fennel essential oil isn't one of the "mainstream" essential oils because very few people are familiar with its usage. However, when you begin to explore Fennel's vast therapeutic properties, you will be inclined to make this wonderful oil an important part of your self-care routine.

Right from the Detoxing Blend to the Woman's Help Oil, Fennel is a key ingredient in many of my products. Here's why.

Emotional Qualities
Clearing
Resolute
Enlightened
Encouraging
How to Use Fennel Essential Oil
For the digestive system: Fennel has a carminative nature, which means that it helps prevent and relieve flatulence. As an effective antispasmodic, it acts upon the smooth muscles of the stomach and intestines, thus alleviating gastric pain and discomfort associated with indigestion, abdominal bloating, nausea, belching, and flatulence.

For detoxification: As a natural diuretic and lymphatic decongestant, Fennel assists the body in eliminating toxins, stagnant fluids and fats. A massage with fennel oil boosts blood circulation and draws excessive water from the tissues, which helps in instant inch-loss and minimizes cellulite. Not surprisingly, Fennel has been used as a traditional slimming aid in many cultures. I have used Fennel as an ingredient in my Detoxing Body Oil, and it has delivered fabulous results!
For reproductive health: Fennel is indeed a "woman's oil" as it can help regulate the menstrual cycle, particularly when periods are scanty and painful. It is also recommended during menopause to reduce symptoms caused by fluctuating hormonal levels. Fennel essential oil contains high amounts of anethole, which is believed to have estrogen-like properties. Due to its lactogenic and emmenagogic properties, Fennel is given to new mothers in India to stimulate lactation and help with the contraction of the uterus after delivery. Fennel is an important ingredient in Aromandina's Woman's Help Body Oil – one of our most popular products.

For skin care: Fennel is an elixir for aging skin as its tautening and tonic effects can help treat wrinkles, weakness of the connective tissue and cellulite. Quick Tip: You can make your very own day-and-night anti-wrinkle moisturizer by combining: 5 drops of Fennel, 5 drops of Rose 5 drops of Lavender in a 1 oz bottle of jojoba oil. You will love the results!

For emotional issues: Obesity and weight gain are often associated with low self-esteem, poor self-image, and self-rejection. These factors lead to "substitutes" like emotional eating, which only compounds the problem. Fennel enhances peoples' ability to embrace and accept themselves, and acknowledge the root cause of weight issues, thus contributing towards better self-image and confidence. Fennel is also known to encourage positive qualities like perseverance and motivation, which are necessary to overcome weight issues. Fennel is also very beneficial for people who tend to bottle up their feelings, which often manifest as physical problems such as nervous spasm or indigestion. Fennel helps open up channels of communication and gives people the courage to express themselves without fear or inhibition. Have you ever used Fennel essential oil? Tell us how it benefitted you.
Methods of Use
Scientific Name:Foeniculum Vulgare var. dulce
Country of Origin:Turkey
Part of the Plant:Seeds
Available Sizes
0.35 fl oz - 10mL (0) 1 fl oz - 29mL (17)
We, at Aromandina, are dedicated to providing the purest and highest quality essential oils to our clients. All our essential oils come from organic or wild crafted sources which means that they are 100% free from harmful chemicals, pesticides, heavy metals and preservatives. We adhere to environmentally sustainable methods in all our processes. Essential oils from Aromandina are of the highest grade which renders them fit, safe and effective for therapeutic use.All of our essential oils are carefully screened for authenticity, purity and quality. We put in a lot of time and effort to keep up our promise of delivering nothing less than the best to our clients.
From Our Blog