Fiesta Essential Oil Blend
30031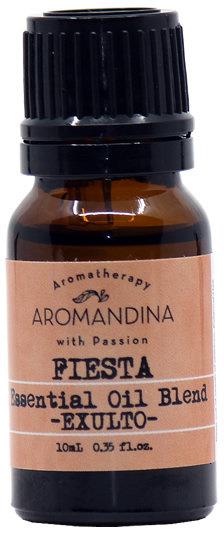 About Fiesta Essential Oil Blend - EXULTO
Welcome the party to your life. A blend of Latin American scents created to revive and enliven your heart and mind. Helpful for chronic depression, apathy, burnout, sluggishness.
Ingredients
Ginger Essential Oil (Zingiber officinalis): Hot and spicy optimism and willpower, elevates the moon, disperses the sense of inertia.
Cardamom Essential Oil (Elattaria cardamomum): Clarity, direction, motivation, courage, enthusiasm.
Eucalyptus Globulus Essential Oil: "Opens the chest," stimulating, emotional balancer.
Palo Santo (Bursera graveolens) Essential Oil: Quiets the mind from mundane thoughts; and has a purifying effect on the mind, especially beneficial for cases of grief and inability to let go.
Methods of Use
Dilute in carrier oil to apply topically

*This statement has not been evaluated by the Food and Drug Administration. This product is not intended to diagnose, treat, cure or prevent disease
That Fiesta is a feast for the senses and helps the heart to blossom in whatever soil the day plants... God blessed us with your gifts¦
Jackie, Cincinati, IL
Available Sizes:0.35fl oz. - 10mL
Available Sizes
0.35 fl oz - 10mL (0) 1 fl oz - 29mL (30) 1.75 fl oz - 50mL (90) 3.5 fl oz - 100mL (195)
We, at Aromandina, are dedicated to providing the purest and highest quality essential oils to our clients. All our essential oils come from organic or wild crafted sources which means that they are 100% free from harmful chemicals, pesticides, heavy metals and preservatives. We adhere to environmentally sustainable methods in all our processes. Essential oils from Aromandina are of the highest grade which renders them fit, safe and effective for therapeutic use.All of our essential oils are carefully screened for authenticity, purity and quality. We put in a lot of time and effort to keep up our promise of delivering nothing less than the best to our clients.
From Our Blog