Fir Silver Essential Oil
90032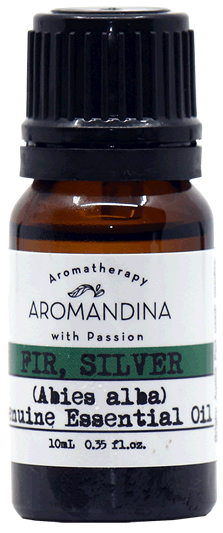 About Fir Essential Oil
Clears sinuses and aides the respiratory system. Known to sooth sore joints and muscles and relax nervous tension.

Therapeutic Actions
Analgesic, antiseptic, expectorant, deodorant, rubefacient, stimulant.

Fir Essential Oil and the Mind

Elevating
Grounding
Encouraging
Restoring
How To Use Fir Essential Oil

For respiratory problems: Can be useful for catarrhal illnesses of the upper and lower respiratory tract.
A few drops of Fir oil inhaled with steam or rubbed across the chest and back (diluted in a carrier oil), can work wonders.
For muscular and rheumatic pain: For the relief of muscular aches and pains due to rheumatism or arthritic conditions. Combine 3 drops of Fir with 1 tablespoon carrier oil and massage over affected areas.

For nervous system support: Useful for alleviating anxiety and stress. Fill a bath with warm water. Combine 5 drops of Fir and 5 drops of Lavender with 1 cup of sea salt or Epsom salts. Enjoy the bath for at least 15 minutes before going to bed.
Methods of Use
Dilute in carrier oil to apply topically
*This statement has not been evaluated by the Food and Drug Administration. This product is not intended to diagnose, treat, cure or prevent disease

Scientific Name:Abies alba
Country of Origin:Austria
Part of the Plant:Leaves
Available Sizes
0.35 fl oz - 10mL (0) 3.5 fl oz - 100mL (104)
We, at Aromandina, are dedicated to providing the purest and highest quality essential oils to our clients. All our essential oils come from organic or wild crafted sources which means that they are 100% free from harmful chemicals, pesticides, heavy metals and preservatives. We adhere to environmentally sustainable methods in all our processes. Essential oils from Aromandina are of the highest grade which renders them fit, safe and effective for therapeutic use.All of our essential oils are carefully screened for authenticity, purity and quality. We put in a lot of time and effort to keep up our promise of delivering nothing less than the best to our clients.
From Our Blog