Hyssop Decumbens
90044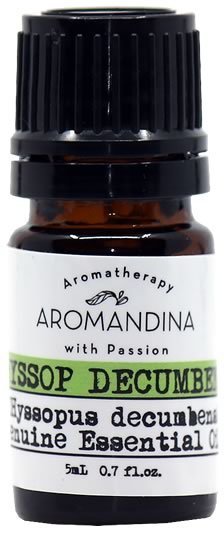 About Hyssop Decumbens Essential Oil
Aides with concentration and can alleviate mental fatigue. It helps elevate the mood and purge negative emotions. Antibacterial/antiviral properties assist in the prevention of recurrent colds and flu and fight infection.
How to Use Hyssop Decumbens Essential Oil
For Digestive System: Mild laxative, relieves stomach cramps and expels wind. Combine 5 drops of Hyssop with 1 tablespoon Carrier Oil and massage abdomen with circular movements.
For Immune System Support: Hyssop is well known to have potent antiviral effects. Use in inhalations or aromatherapy diffuser.
For Nervous System Support: for poor concentration, mental fatigue, and nervous debility, use the Quick inhalation method of use.

For Respiratory System: It helps to relieve bronchial spasms, it liquefies mucus. It is effective for treating colds, sore throats, influenza, bronchitis, and asthma. Use it in baths, diluted in a carrier oil or inhalations.
Emotional Healing

Purifying
Invigorating
Rejuvenating
Methods of Use
*This statement has not been evaluated by the Food and Drug Administration. This product is not intended to diagnose, treat, cure or prevent disease
Scientific Name:Hyssopus officinalis v. decumbens
Available Sizes:5mL 0.175 fl.oz.
Available Sizes
5 mL - 0.17 fl oz (0) 30 mL - 1 fl oz (170)
We, at Aromandina, are dedicated to providing the purest and highest quality essential oils to our clients. All our essential oils come from organic or wild crafted sources which means that they are 100% free from harmful chemicals, pesticides, heavy metals and preservatives. We adhere to environmentally sustainable methods in all our processes. Essential oils from Aromandina are of the highest grade which renders them fit, safe and effective for therapeutic use.All of our essential oils are carefully screened for authenticity, purity and quality. We put in a lot of time and effort to keep up our promise of delivering nothing less than the best to our clients.
From Our Blog