Immune System Support Essential Oil Blend
10012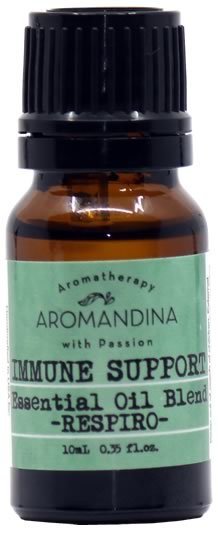 About Immune Support Essential Oil Blend - RESPIRO
The essential oils in this blend will help support and strengthen the immune response by opposing the microorganisms and by stimulating the activity of the organs and cells involved. Useful for the common cold, sinusitis, laryngitis and chronic bronchitis. Always be sure to keep this decongestant blend in your medicine chest.
Ingredients
Eucalyptus Globulus Essential Oil and Eucalyptus Radiata Essential Oil: Powerful antibacterial and antiviral.
Niaouli (Melaleuca quinquenervia) Essential Oil and Tea Tree (Melaleuca alternifolia) Essential Oil: Bactericidal, antiviral and fungicidal properties and a powerfully stimulant action on the immune response.
Ravensara (Ravesara aromatica) Essential Oil: The oil that heals. Very useful with viral infections like whooping cough, sinusitis.
Pine (Pinus silvestris) Essential Oil: Expectorant and a very powerful pulmonary antiseptic.
Lavender (Lavandula angustifolia) Essential Oil: The antiseptic and analgesic properties of lavender make it a very useful treatment for colds, coughs, catarrh and influenza.
Methods of Use
*This statement has not been evaluated by the Food and Drug Administration. This product is not intended to diagnose, treat, cure or prevent disease
I've been using my bottle of RESPIRO Immune Support the last few days to help me get over a sore throat and fever- I've been taking one drop internally every hour and I must say I am recovering very quickly- never got any congestion or other symptoms!
Jen, Gainesville, GA
The Immune Support was fantastic with my flu and with my fiance's seasonal allergies! I steamed some water with it and it cleared my congestion right up! It is on my bedside table right now ready to diffuse when we go to sleep.
Mary, Buford GA
Available Sizes
0.35 fl oz - 10mL (0) 1 fl oz - 29mL (20) 1.7 fl oz - 50mL (60) 3.5 fl oz - 100mL (130)
We, at Aromandina, are dedicated to providing the purest and highest quality essential oils to our clients. All our essential oils come from organic or wild crafted sources which means that they are 100% free from harmful chemicals, pesticides, heavy metals and preservatives. We adhere to environmentally sustainable methods in all our processes. Essential oils from Aromandina are of the highest grade which renders them fit, safe and effective for therapeutic use.All of our essential oils are carefully screened for authenticity, purity and quality. We put in a lot of time and effort to keep up our promise of delivering nothing less than the best to our clients.
From Our Blog