Juniper Berry Essential Oil
90048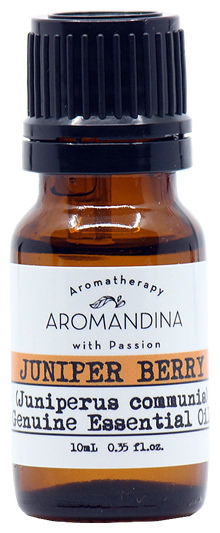 About Juniper Berry Essential Oil
Juniper Berry Essential Oil has cleansing and stimulating properties. It is also used as a good diuretic and lymphatic decongestant. Combined with a carrier oil and other decongestant essential oils like lemon and grapefruit essential oils is helpful for cellulite, gout and overweight. Helps break through negative emotional states.
0.35 fl oz - 10mL
Emotional Healing
Stimulating
Invigorating
Strengthening
Methods of Use
En Español
Aceite Esencial de Enebro
Limpiador y estimulante. Buen diurético, puede ser útil para cansancio crónico. Ayuda a resolver estados emocionales negativos.
Beneficios Emocionales:
Purificación
Fortalecimiento
Rejuvenecedor
Métodos de Uso
*This statement has not been evaluated by the Food and Drug Administration. This product is not intended to diagnose, treat, cure or prevent disease
We, at Aromandina, are dedicated to providing the purest and highest quality essential oils to our clients. All our essential oils come from organic or wild crafted sources which means that they are 100% free from harmful chemicals, pesticides, heavy metals and preservatives. We adhere to environmentally sustainable methods in all our processes. Essential oils from Aromandina are of the highest grade which renders them fit, safe and effective for therapeutic use.All of our essential oils are carefully screened for authenticity, purity and quality. We put in a lot of time and effort to keep up our promise of delivering nothing less than the best to our clients.