Lemon Essential Oil
90052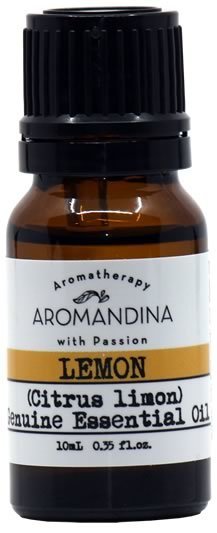 About Lemon Essential Oil
Antiseptic, anti-bacterial, alkalizing, stimulates the immune system, detoxing. Helps to eliminate emotional confusion and increase one's sense of humor and well-being.
0.35 fl oz - 10mL
Qualities

Purifying
Stimulant
Directional
Versatile
Methods of Use
En Español
Aceite Esencial de Limón
El aceite esencial de limonaria tiene un aroma potente y estimulante. La limonaria tiene propiedades antivirales, fungicidas y sedantes. Produce un efecto tónico y estimulante en todo el organismo.
Beneficios Emocionales
Purificación
Purificante
Liberación
Métodos de Uso
*This statement has not been evaluated by the Food and Drug Administration. This product is not intended to diagnose, treat, cure or prevent disease
Scientific Name:Citrus limon
Country of Origin:Italy
Part of the Plant:Rind
Available Sizes
0.35 fl oz - 10mL (0) 1 fl oz - 29mL (11) 1.72 fl oz - 50mL (27.5) 3.5 fl oz - 100mL (71.5)
We, at Aromandina, are dedicated to providing the purest and highest quality essential oils to our clients. All our essential oils come from organic or wild crafted sources which means that they are 100% free from harmful chemicals, pesticides, heavy metals and preservatives. We adhere to environmentally sustainable methods in all our processes. Essential oils from Aromandina are of the highest grade which renders them fit, safe and effective for therapeutic use.All of our essential oils are carefully screened for authenticity, purity and quality. We put in a lot of time and effort to keep up our promise of delivering nothing less than the best to our clients.