Lemon Essential Oil
90052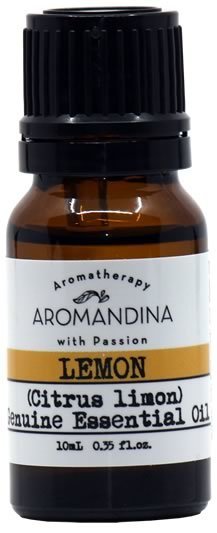 About Lemon Essential Oil
This essential oil is very versatile — providing relief for everything from insomnia, to tummy troubles, to problems concentrating, to circulation issues, and more. In fact, Lemon has been used to battle both physical and emotional ailments ever since the 12th century!
Lemon Essential Oil for the Mind and the Emotions
Lemon oil's bright, tangy, citrusy scent is an instant mood-booster. Whether you suffer from depression, can't calm down after a stressful day at the office, or simply need something that can help you focus better on important tasks, Lemon oil is up to the job! Even just a quick sniff will help recharge your brain. Scientific studies have shown that Lemon oil activates the hippocampus, the part of your brain that regulates both your memory and your emotions.)
Lemon's clean, uplifting scent is a popular choice in terminal wards and in facilities that treat depressed and fearful patients. And, when combined with soothing lavender or chamomile, it can create an environment that's perfect for winning the battle over insomnia.
How to Use Lemon Essential Oil
You can use Lemon oil in your aromatherapy burner — giving you an easy, sweet-smelling way to purify an entire room. Or, you can blend it with a carrier oil to create a luxurious massage oil. Even just squeezing a few drops onto a tissue and taking a couple of deep breaths will make a big difference in your day!
Just be careful — Lemon essential oil is phototoxic, so do not apply on your skin before sun exposure.
No matter how you want to use it, Aromandina has all of the Lemon oil goodies you need!
Qualities

Purifying
Stimulant
Directional
Versatile
Methods of Use
*This statement has not been evaluated by the Food and Drug Administration. This product is not intended to diagnose, treat, cure or prevent disease
Scientific Name:Citrus limon
Country of Origin:Italy
Part of the Plant:Rind
Available Sizes
0.35 fl oz - 10mL (0) 1 fl oz - 29mL (11) 1.72 fl oz - 50mL (33) 3.5 fl oz - 100mL (71.5)
We, at Aromandina, are dedicated to providing the purest and highest quality essential oils to our clients. All our essential oils come from organic or wild crafted sources which means that they are 100% free from harmful chemicals, pesticides, heavy metals and preservatives. We adhere to environmentally sustainable methods in all our processes. Essential oils from Aromandina are of the highest grade which renders them fit, safe and effective for therapeutic use.All of our essential oils are carefully screened for authenticity, purity and quality. We put in a lot of time and effort to keep up our promise of delivering nothing less than the best to our clients.
From Our Blog