Meditation Essential Oil Blend
80020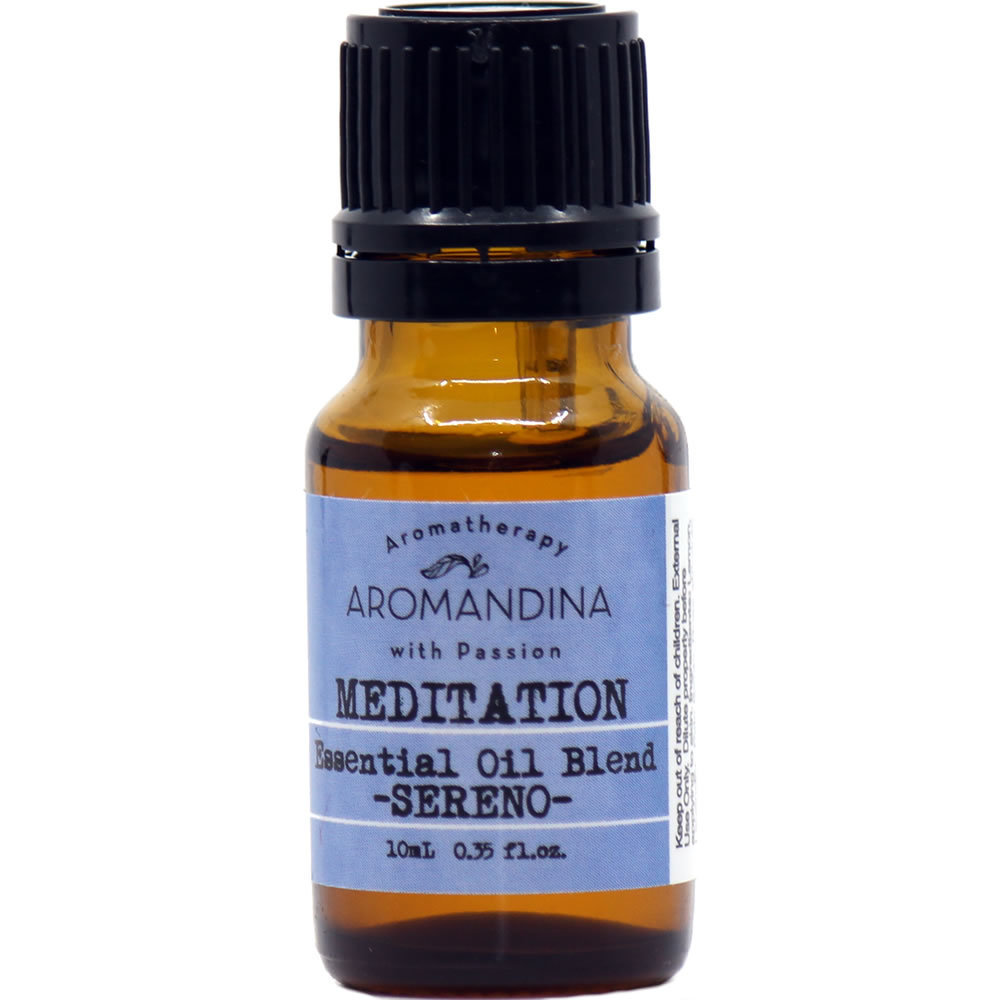 About Meditation
Slow down your hectic life with this Meditation Blend. You'll be able to slow down and seize the day after you take advantage of this special essential oil Meditation Blend.
Be honest -- how much time do you spend in a day scrolling through your smartphone and staring at your computer screen?How often do you get a chance to simply sit back, take a deep breath, and truly seize the day? If you're like most people, not often enough!
Luckily for you, we've created this synergy of essential oils that can help you achieve a calmer, slower, more relaxed state of mind.
Ingredients:
Frankincense (Boswellia frereana) essential oil: Used to deepen breathing, Frankincense can help tackle everything from depression to anxiety, to nagging mental chatter.It's got soothing qualities that will help you break free of negative emotions, allowing you to focus on -- and appreciate -- the current moment.Frankincense is a popular choice among spiritual experts because it helps enable the mind to focus more clearly on prayer, meditation, and deep thinking.


Rose absolute (Rosa centifolia): Called "the oil of the heart," Rose Absolute encourages feelings of love and creativity.By using it to open up your heart energy, you can overcome negative emotions like guilt, sorrow, and self-righteousness and be more open to affection, intimacy, and determination.


Lavender (Lavandula angustifolia) essential oil: Lavender is a popular sedative oil that's used by a number of people at bedtime.However, it's not just good for sleeping!Lavender is aromatherapy's version of a "stress-buster."Not only can it help you relax , but it can also help open your mind to newer, calmer perspectives.In the end, you'll wind up with a much greater sense of inner peace.


Lemon (Citrus limon) essential oil: This vibrant oil is perfect for turning pessimism into optimism.It creates a warm feeling that can make you feel nurtured, hopeful, and encouraged.


Palo Santo (Bursera graveolens) essential oil: This is a sacred and deeply spiritual essential oil.It's perfect for people who feel lonely, depressed or abandoned.Not only can Palo Santo give you a clearer understanding of your specific situation, but it can also help you detach from a painful past that's holding you back.
How to use Meditation Blend
Simply place a few drops in a tissue, and breathe it in. (We suggest visualizing your troubles leaving your body every time you exhale!)It will only take you about 5 minutes to feel your mind quiet down.
It's also easy to incorporate Mediation Blend into your yoga routine.Simply bring the tissue with you, and place it on your chest during Shavasana.
Or, if you'd rather enjoy this blend at bedtime, put the tissue under your pillow.That way, you'll sleep better all night long, and you'll be able to bid bon voyage to the nightmares that are preventing you from getting the rest you need.
Want to combine this soothing feeling with a warm bath?Just combine 10 drops of Meditation Blend with 1/4 cup of sea salts, and pour the mixture into the tub.The warm water will help infuse your entire bathroom with the calming scent!Or, combine 60 drops of Meditation Blend with 4 ounces of Therapeutic Carrier Oil to make a special body oil that you can use as a daily moisturizer or an end of the day treat.
Available Sizes
10 mL - 0.35 fl oz (0) 30 mL - 1 fl oz (26) 50 mL - 1.7 fl oz (78) 100 mL - (169)
We, at Aromandina, are dedicated to providing the purest and highest quality essential oils to our clients. All our essential oils come from organic or wild crafted sources which means that they are 100% free from harmful chemicals, pesticides, heavy metals and preservatives. We adhere to environmentally sustainable methods in all our processes. Essential oils from Aromandina are of the highest grade which renders them fit, safe and effective for therapeutic use.All of our essential oils are carefully screened for authenticity, purity and quality. We put in a lot of time and effort to keep up our promise of delivering nothing less than the best to our clients.
From Our Blog