Orange Essential Oil
90064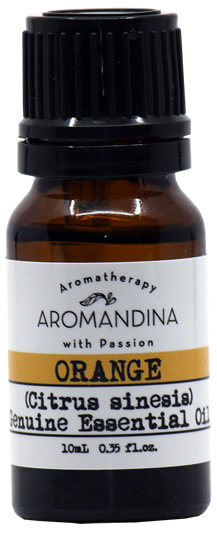 About Sweet Orange Essential Oil
Sweet orange should be one of your go-to essential oils! Keep it in your medicine cabinet and use it when you need to bring a smile to your face. At Aromandina we love blending it with other oils. In fact, it's one of the main ingredients in some of our most popular blends — including Autumn Blend, Spring Blend, Citrus Delight, Holiday Bliss, and Detoxing Body Oil.

When you think of an orange, you probably think of the juicy, tasty, fleshy insides. However, sweet orange oil actually comes from the outer peel, thanks to a special cold pressing technique. Just like its fleshy counterpart, orange oil has a sweet, warm, rounded aroma.


Orange oil — uses in aromatherapy
In addition to its great scent, aromatherapy experts love orange oil because it's so versatile. You can literally use it from head to toe!
Sweet orange oil for digestion
Whether you're battling abdominal distention and pain, indigestion, flatulence, nausea, vomiting, constipation, irritable bowel, or simply poor eating choices, orange oil can help. It's a hepatic stimulant and cholagogue — meaning it can help bile flow better, making it easier for your body to digest fatty foods. It can also help normalize the peristaltic action in your intestines — meaning your gastrointestinal muscles will contract more smoothly — so that you don't have spasms and cramps.

Simply mix 7 drops of orange with 7 drops of ginger, and 1 ounce of carrier oil, and massage your abdomen with it.
Sweet orange oil for skin care
Orange can help fight the signs of aging, rough patches of skin, acne, and cellulite. As long as you mix it with a jojoba oil (one ounce of jojoba for every 10 drops of oil), you can apply it directly to your skin. (Don't use it in your bath water, because it may irritate your skin!)

Orange's astringent properties can work wonders for oily and acne-prone skin, so add it to your regular skincare routine.

To create your own regenerative moisturizer, combine 3 drops of sweet orange oil, 3 drops of frankincense, 3 drops of lavender, and 1 ounce of jojoba oil, and use it every night.

Or, create a daily massage oil by mixing 5 drops of sweet orange, 5 drops of geranium, 5 drops of atlas cedarwood, and 1 ounce of carrier oil. Massage it into your problem areas, and the orange will help stimulate your lymphatic system, which can help reduce cellulite.
Sweet orange oil as a mood booster
If you didn't know better, you'd think orange oil had some REAL sunshine in it! One whiff makes you think of sunshine-filled days, which is why it's especially powerful during the winter.

Orange has antidepressant and sedative properties that help combat anxiety, tension, frustration, and insomnia.
Simply place a few drops on a tissue and breathe in the scent. You'll instantly feel waves of happiness and calmness wash over you.
Sweet orange oil works great all by itself, but you can also mix it with other relaxing oils — like
lavender
,
marjoram
, and
mandarin
. This blend can have dramatic results if you use it right before bedtime!
Give yourself a sweet treat by stocking up on sweet orange oil from Aromandina!
Qualities
Warming
Happy
Resolute
Energizing
Methods of Use
*This statement has not been evaluated by the Food and Drug Administration. This product is not intended to diagnose, treat, cure or prevent disease
Scientific Name:Citrus sinensis
Country of Origin:Portugal
Part of the Plant:Peel
Available Sizes
0.35 fl oz - 10 mL (0) 1 fl oz - 29 mL (11.5) 1.72 fl oz - 50 mL (34.5) 3.5 fl oz - 100 mL (74.8)
We, at Aromandina, are dedicated to providing the purest and highest quality essential oils to our clients. All our essential oils come from organic or wild crafted sources which means that they are 100% free from harmful chemicals, pesticides, heavy metals and preservatives. We adhere to environmentally sustainable methods in all our processes. Essential oils from Aromandina are of the highest grade which renders them fit, safe and effective for therapeutic use.All of our essential oils are carefully screened for authenticity, purity and quality. We put in a lot of time and effort to keep up our promise of delivering nothing less than the best to our clients.
From Our Blog