Patchouli Essential Oil
90070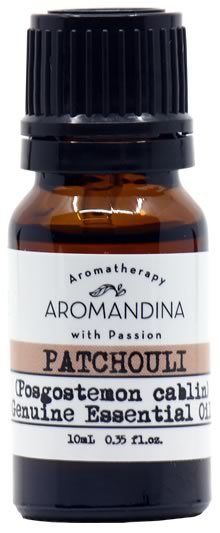 About Patchouli Essential Oil
Wonderful aphrodisiac. Assists to relieve anxiety, depression, nervous exhaustion, frigidity, and stress.
Patchouli has one of the most distinct scents in all of aromatherapy. It's strong, earthy, and musky, so a little bit goes a long way. Luckily, though, a little bit is all you need to see big-time results!
It's a bushy perennial herb that's native to the tropical climates in Southeast Asia. Legend has it that King Tut loved Patchouli oil so much that he demanded to have ten gallons of it buried with him.

If you've got the pure essential oil, there are a number of things you can do with it. However, because it's such a strong scent, I always combine it with other oils — like bergamot, grapefruit, or lemon — by mixing nine parts of the other oil with one part patchouli. Then, put it in your aromatherapy burner to spread the scent throughout your room. Or, place 1 drop on your pillow or onto a tissue, and breathe deeply. You can also put a few drops in your bath or footbath after a long day.
Patchouli is very popular because it can provide many benefits. Its anti-inflammatory properties can relieve everything from arthritis to gout, to fevers. It also has antiseptic properties, so it's an effective way to treat wounds.
For emotional support
If you're overwhelmed by anxiety, depression, or stress, Patchouli can have life-changing results. Its sedative properties will help you get a better night's sleep and chase away all of those negative feelings you experience when you're tired. And, because the scent stimulates the production of your body's so-called "feel good hormones," Patchouli will quickly eliminate anger, sadness, and anxiety.
It can even eliminate feelings of indifference. After all, it's impossible for your senses to ignore this strong scent! The next time you feel mentally "stuck," tap into the mental power of Patchouli.
For romance
Its strong musky scent makes Patchouli a wonderful aphrodisiac. It will lower your inhibitions, so you'll feel more comfortable expressing your desires. And it's the perfect oil to help you get ready for a romantic evening because it's so good at chasing away negative thoughts and fatigue. All of your thoughts will be focused on your sweetie and your magical night!
For a sensual massage oil combine 1 drop of Patchouli, 5 drops of Jasmine and 4 drops of Orange with 1 oz carrier oil.
For skin care
Another great way to use Patchouli is to dilute it with a carrier oil (like coconut or jojoba) and apply it directly to your skin. In fact, it can regenerate, disinfect, moisten, and cool tissues! In addition to the mood boost, you'll get from the scent; Patchouli can help alleviate the symptoms of a variety of skin problems — like athlete's foot, eczema, acne, and dandruff.
If you want to use it every day, you can make your own moisturizer by mixing one drop of patchouli with five drops of lavender, three drops of frankincense, and one ounce of jojoba. Or, make your own scalp conditioner by mixing one drop of patchouli with four drops of geranium and five drops of tea tree. Or, make a massage oil with one drop of patchouli, five drops of jasmine, four drops of orange, and one ounce of carrier oil.
Qualities

Grounding
Unruffled
Soothing
Methods of Use
*This statement has not been evaluated by the Food and Drug Administration. This product is not intended to diagnose, treat, cure or prevent disease

Scientific Name:Pogostemon cablin
Country of Origin:Indonesia
Part of the Plant:Leaf
Available Sizes
0.35 fl oz - 10mL (0) 1 fl oz - 29mL (17) 1.72 fl oz - 50mL (51) 3.5 fl oz - 100mL (110.5)
We, at Aromandina, are dedicated to providing the purest and highest quality essential oils to our clients. All our essential oils come from organic or wild crafted sources which means that they are 100% free from harmful chemicals, pesticides, heavy metals and preservatives. We adhere to environmentally sustainable methods in all our processes. Essential oils from Aromandina are of the highest grade which renders them fit, safe and effective for therapeutic use.All of our essential oils are carefully screened for authenticity, purity and quality. We put in a lot of time and effort to keep up our promise of delivering nothing less than the best to our clients.
From Our Blog