Pine Essential Oil
90074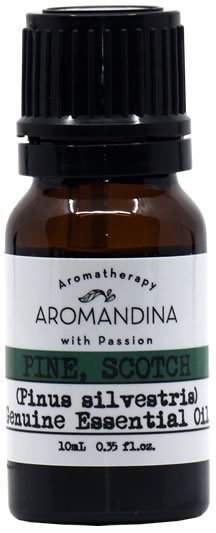 About Pine Essential Oil
Helpful for asthma, bladder infections, bronchitis, catarrh, as a circulatory agent, convalescence, coughs, as a decongestant and deodorant. Assists in detoxification.
0.35 fl oz - 10mL
Qualities

Acceptance
Understanding
Patience
Humility
Forgiving
Trusting
Methods of Use
En Español
ACEITE ESENCIAL DE PINO
Útil para el asma, infecciones urinarias, bronquitis, catarro, agente circulatorio, convalesencia, tos, descongestionante y desodorante. Ayuda a desintoxicar.
Características
Aceptación
Entendimiento
Paciencia
Humildad
Perdón
Confianza
Métodos de Uso
*This statement has not been evaluated by the Food and Drug Administration. This product is not intended to diagnose, treat, cure or prevent disease
Scientific Name:Pinus sylvestris
Country of Origin:Bulgaria
Part of the Plant:Leaves
Available Sizes
0.35 fl oz - 10mL (0) 1 fl oz - 29mL (16) 1.72 fl oz - 50mL (44) 3.5 fl oz - 100mL (82.5)
We, at Aromandina, are dedicated to providing the purest and highest quality essential oils to our clients. All our essential oils come from organic or wild crafted sources which means that they are 100% free from harmful chemicals, pesticides, heavy metals and preservatives. We adhere to environmentally sustainable methods in all our processes. Essential oils from Aromandina are of the highest grade which renders them fit, safe and effective for therapeutic use.All of our essential oils are carefully screened for authenticity, purity and quality. We put in a lot of time and effort to keep up our promise of delivering nothing less than the best to our clients.