Spring Blend
85003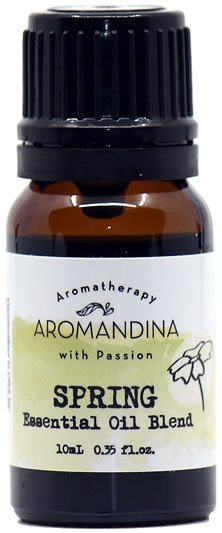 About Spring Blend

Spring is a time to welcome change and embrace newness.
Bring in positivity into your life with Aromandina's special Spring Essential Oil Blend.
When you spring-clean your house and closet, why not take a few moments to spring-clean your heart and soul as well? Purge yourself of everything you don't need in your life (emotional baggage, negative feelings, disharmony and rigidity) to make room for creativity, passion and inspiration.
Clear away the clutter inside you and transcend into a state of clarity and fresh perspectives.
Ingredients
Sweet Orange (Citrus sinensis) Essential Oil*: is always synonymous with joy and relaxation. Its sweet, citrusy scent encourages the flow of positive energy and brightens up the day like a ray of sunshine. It uplifts the mood and helps overcome depression, stress and anxiety.
Bergamot (Citrus bergamia) Essential Oil: is known to instill hope and rid the heart of undesirable feelings like frustration, anger, fear and resentment. Bergamot can mend a broken heart and guide the soul from darkness to light. By inspiring positivity, it makes us capable of loving and giving.
Blue Yarrow (Achillea millefolium) Essential Oil: acts as a soothing balm on emotional wounds. It gives us the strength to forgive and rise above our deepest fears and resentments. The oil unburdens the heart and promotes inner peace, patience, and understanding, which helps you look at relationships with a renewed perspective.
Methods of Use
*This statement has not been evaluated by the Food and Drug Administration. This product is not intended to diagnose, treat, cure or prevent disease
Available Sizes
0.35 fl oz - 10mL (0) 1 fl oz - 29mL (20) 1.72 fl oz - 50mL (60) 3.5 fl oz - 100mL (130)
We, at Aromandina, are dedicated to providing the purest and highest quality essential oils to our clients. All our essential oils come from organic or wild crafted sources which means that they are 100% free from harmful chemicals, pesticides, heavy metals and preservatives. We adhere to environmentally sustainable methods in all our processes. Essential oils from Aromandina are of the highest grade which renders them fit, safe and effective for therapeutic use.All of our essential oils are carefully screened for authenticity, purity and quality. We put in a lot of time and effort to keep up our promise of delivering nothing less than the best to our clients.
From Our Blog