Spruce Essential Oil
90086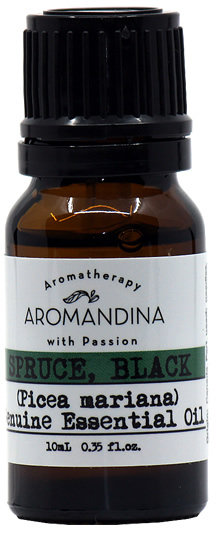 About Spruce Essential Oil
Good nerve tonic that helps with mental fatigue and nervous stress.
A member of the Pinaceae plant family, Spruce is a close cousin of firs, pines, and hemlocks. There are over 40 species of Spruce, but not all offer therapeutic benefits. Black Spruce (Picea mariana) is an evergreen coniferous tree native to Canada, although it also grows in some parts of Alaska and North America. It is typically found in wet, swampy regions. The sharp, bluish-green needle-like leaves of the tree are the primary source of essential oil, which is extracted through the process of steam distillation. Black Spruce essential oil has a much milder, sweeter scent compared to other oils from the evergreen family.
Black Spruce Essential Oil: Uses in Aromatherapy
Historically, Lakota Americans have used Black Spruce for healing wounds and muscular pain. It was also an important part of their spiritual rituals because of its purifying and cleansing properties. In Europe, Black Spruce was used to treat gingivitis and stomach infections.
Black Spruce essential oil has a high content of esters, which contributes to its balancing and antispasmodic properties. This is why it is often added to saunas, hot baths, and massages. However, the most remarkable quality of Black Spruce is its ability to clear "blockages," both respiratory and emotional.
Black Spruce Essential Oil for Emotional Healing
Like most woody oils, Black Spruce is grounding and stimulating at the same time. While it has a calming effect on a nervous, hyperactive individual, it energizes someone who is feeling lethargic and melancholic. The fresh, clean scent of Black Spruce breeds feelings of harmony and goodwill and helps people get in touch with their true feelings by clearing emotional blocks.
The fresh, calming and restoring scent of Black Spruce comes from the rich composition of monoterpenes in the oil, which makes it an ideal oil to use during meditation and yoga. To provide a fresh, relaxing atmosphere at home, add 10 drops to your aromatherapy burner or diffuser.
Black Spruce Essential Oil for Endocrine Support
According to Dr. Kurt Schnaubelt, the polycyclic terpenoid compounds in Black Spruce have a tonic effect on the adrenal, thyroid and pituitary glands, thus encouraging hormonal equilibrium. The most notable is its effects on the adrenal glands, which makes it a wonderful oil to combat chronic lethargy, especially in winter months. Shirley and Len Price in their Book Aromatherapy for Health Professionals, have also documented Black Spruce's cortisone-like action and its uses in the management of hyperthyroidism.
For adrenal support, mix a few drops of Black Spruce with a carrier oil and massage onto your lower back.
Black Spruce Essential Oil for Respiratory Problems
Black Spruce's expectorant, antitussive and disinfectant properties make it helpful to support the respiratory system. In a class I took with Gabriel Mojay, I learned that Black Spruce tones and regulates Lung-Qi, and the high level of monoterpenes help strengthen the body's natural defenses. It can help relieve tightness of the chest and difficulty in breathing.
To clear bronchial congestion, add 2 drops in hot water, cover head with a towel and inhale the vapors. Alternatively, you can add 5 drops to a washcloth and place it on your chest while taking a warm shower.
Black Spruce Essential Oil for Muscular and Rheumatic Pains
As an analgesic and rubefacient, Black Spruce supports blood flow to tired muscles and soothes muscular pain. It is often used in liniments, aerosols or with carrier oils in massage.
For tired muscles and sore joints, combine 5 drops of Black Spruce with 1 tablespoon of carrier oil. Massage the affected area twice a day.
Black Spruce Essential Oil for Urinary Tract Support
Black Spruce is believed to have antiseptic, anti-inflammatory, antifungal and antispasmodic properties that can help keep the genito-urinary system healthy.
Combine 5 drops in 1 tablespoon of carrier oil and massage across lower back and abdomen.
Black Spruce is non-toxic, but refrigerate it in a dark, airtight container to prevent oxidation.
Do you have any other interesting uses for Black Spruce?
Qualities
Firmness
Trust
Vitality
Harmonious
Methods of Use
*This statement has not been evaluated by the Food and Drug Administration. This product is not intended to diagnose, treat, cure or prevent disease
Scientific Name:Picea mariana
Country of Origin:Canada
Part of the Plant:Needle
Available Sizes
0.35 fl oz - 10mL (0) 1 fl oz - 29mL (17) 1.72 fl oz - 50mL (51) 3.5 fl oz - 100mL (110.5)
We, at Aromandina, are dedicated to providing the purest and highest quality essential oils to our clients. All our essential oils come from organic or wild crafted sources which means that they are 100% free from harmful chemicals, pesticides, heavy metals and preservatives. We adhere to environmentally sustainable methods in all our processes. Essential oils from Aromandina are of the highest grade which renders them fit, safe and effective for therapeutic use.All of our essential oils are carefully screened for authenticity, purity and quality. We put in a lot of time and effort to keep up our promise of delivering nothing less than the best to our clients.
From Our Blog