Tea Tree Essential Oil
90089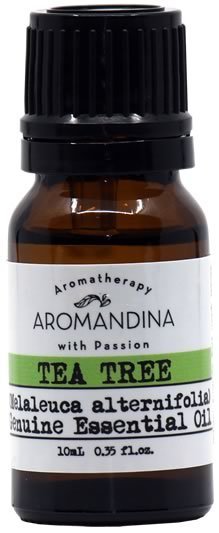 About Tea Tree (Melaleuca alternifolia) Essential Oil
This essential oil comes from a species of the Melaleuca tree found in Queensland and New South Wales in Australia. The oil is extracted by steam distillation of the leaves.
Aroma: spicy, fresh, medicinal
Properties: Powerful antiseptic, antifungal, antiviral, antibiotic, detoxifying, stimulant, insecticide.
Main components: terpineol, terpinene, cineol, cymene, pinene
Uses: Helps the immune system attack bacterial infections, viruses, fungi, and yeast.Helpful for colds, flu, and catarrh.
How to Use Tea Tree Essential Oil
For fungus and athlete's foot:
FOOTBATH: Place feet, up to ankles, in hot water for 20 minutes before going to bed. Mix a total of 10 drops of Tea Tree essential oil with 1 teaspoon sea salt and add it to the water. Then file the nail and add 2 drops of undiluted tea tree oil. Repeat this process every day until fungus clears.
For athlete's foot put one drop of undiluted Tea Tree between each toe every day.
For urinary tract infections:


SITZBATH: Mix 2 tablespoons of plain organic* yogurt and 1 tablespoon of olive oil with 6 drops of Tea Tree essential oil. Run a bath with warm (not hot) water to the level of hips, add the yogurt/olive oil/essential oil mixture and sit for approximately 10 minutes. Be consistent, repeat this treatment for about 10 days for optimal results. *Yogurt must be whole-milk, natural, white, and with live acidophilus culture. Combine 1 tablespoon of Carrier Oil with 3 drops of Tea Tree and 3 drops of Cedarwood. Apply this mixture to lower back, lower abdomen and groins.
For throat infections and colds


GARGLE: In an empty glass put ½ teaspoon sea salt and 6 drops of Tea Tree essential oil. Add the juice of one lemon and ½ cup warm water. Stir well, gargle and spit it out. DO NOT SWALLOW. Repeat twice daily.
INHALATION: Add about 3 drops of essential oil blend to a bowl of warm water and inhale for around 10 minutes to ease blocked sinuses, chest complaints, and colds. Close eyes and cover head with a towel. Care should be taken to ensure not to burn with water or steam. This method is not suitable for asthma or allergy sufferers.
For acne:

Put 3 drops of Tea Tree oil on a Q-tip and apply the oil on each a pimple.
For mouth abscesses:
Mix 4 drops of Tea Tree Oil with 1/4 tsp salt. Add cold water. Do mouthwashes twice a day until a dentist is consulted.
Methods of Use
*This statement has not been evaluated by the Food and Drug Administration. This product is not intended to diagnose, treat, cure or prevent disease
Scientific Name:Melaleuca alternifolia
Country of Origin:Australia
Part of the Plant:Leaves
Available Sizes
0.35 fl oz - 10mL (0) 1 fl oz - 29mL (12.5) 1.72 fl oz - 50mL (37.5) 3.5 fl oz - 100mL (81.3)
We, at Aromandina, are dedicated to providing the purest and highest quality essential oils to our clients. All our essential oils come from organic or wild crafted sources which means that they are 100% free from harmful chemicals, pesticides, heavy metals and preservatives. We adhere to environmentally sustainable methods in all our processes. Essential oils from Aromandina are of the highest grade which renders them fit, safe and effective for therapeutic use.All of our essential oils are carefully screened for authenticity, purity and quality. We put in a lot of time and effort to keep up our promise of delivering nothing less than the best to our clients.
From Our Blog