Winter Blend
85006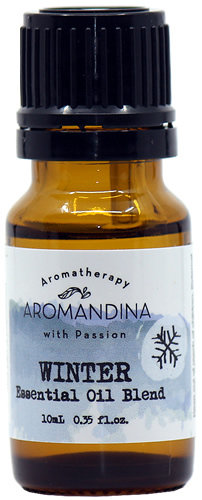 About Winter Blend
Do you yearn for warmth, mental peace and freshness every time the cold weather comes knocking? The Autumn Blend packages all these and more in a tiny bottle to help you brave the chill with positivity and cheer. The refreshing citrus scent of Sweet Orange relaxes and rejuvenates while the warm spiciness of Ginger and Cardamom comfort you from within. With this hearty blend of oils, you will be all set to welcome winters with a big smile on your face.
Main Ingredients
Eucalyptus Radiata Essential Oil: is an immunostimulant which assists people who are tired, run down and/or prone to frequent colds. With antiseptic, antibacterial and antiviral properties.
Pine (Pinus silvestris) Essential Oil: Helpful for asthma, bladder infections, bronchitis, catarrh, as a circulatory agent, convalescence, coughs, as a decongestant and deodorant. Assists in detoxification.
Grapefruit (Citrus paradisi) Essential Oil: Grapefruit essential oil is uplifting, detoxifying, diuretic, tonic, and refreshing.
Lavender (Lavandula angustifolia) Essential Oil: Analgesic, antidepressant, antiseptic, antispasmodic, reduces scarring, diuretic, sedative, relaxing
Methods of Use
*This statement has not been evaluated by the Food and Drug Administration. This product is not intended to diagnose, treat, cure or prevent disease
Available Sizes
0.35fl oz. - 10mL (0) 3.5 fl.oz. - 100mL (130) 1 fl oz. - 29mL (20)
We, at Aromandina, are dedicated to providing the purest and highest quality essential oils to our clients. All our essential oils come from organic or wild crafted sources which means that they are 100% free from harmful chemicals, pesticides, heavy metals and preservatives. We adhere to environmentally sustainable methods in all our processes. Essential oils from Aromandina are of the highest grade which renders them fit, safe and effective for therapeutic use.All of our essential oils are carefully screened for authenticity, purity and quality. We put in a lot of time and effort to keep up our promise of delivering nothing less than the best to our clients.
From Our Blog