Aromatherapy Charts Set of 4
ACHPCK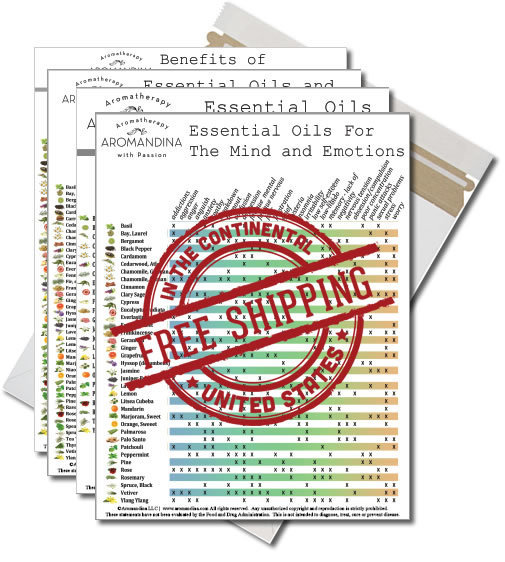 Laminated, with no watermarks, shipped on heavy-duty and rigid protection envelope straight to your door.
Benefits of Essential Oils
This is the ultimate guide for understanding the basic effects that essential oils have on the body. This can be used as a general reference for the most common conditions.

Essential Oils for Mind and Emotions
This chart will help guide you through the incredibly diverse effects that essential oils have on your mind and emotions. Essential oils can commonly help you relax, revitalize your mind and help you stay focused.

Essential Oils for Skin
This chart is essential for knowing what oils are not only safe to use on the skin, but also wonderfully beneficial. From revitalizing your skin to maintaining a healthy balance, essential oils offer a variety of benefits
Specific Uses of Essential Oils
This chart will help you if you're looking for very specific uses for some of your essential oils. From dealing with headaches to reducing stress, essential oils can provide very powerful treatments. This chart is great for having at home in case you need to know specific about uses.
These charts are great for the office, keeping at home near your aromatherapy, or just giving out to friends and acquaintances that are truly interested in aromatherapy.

And by being laminated, we covered the most important aspect of these charts: they're 100% oil proof!

We, at Aromandina, are dedicated to providing the purest and highest quality essential oils to our clients. All our essential oils come from organic or wild crafted sources which means that they are 100% free from harmful chemicals, pesticides, heavy metals and preservatives. We adhere to environmentally sustainable methods in all our processes. Essential oils from Aromandina are of the highest grade which renders them fit, safe and effective for therapeutic use.All of our essential oils are carefully screened for authenticity, purity and quality. We put in a lot of time and effort to keep up our promise of delivering nothing less than the best to our clients.