Bergamot Essential Oil
90007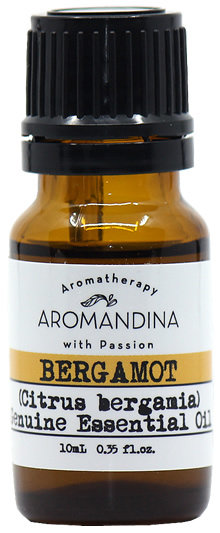 About Bergamot Essential Oil

Bergamot essential oil, with its clean and refreshing citrus fragrance, is an effective antidote against depression, anxiety, urinary tract infections and nervous indigestion. The oil has a balancing and toning effect on the nervous system which makes it effective against psychological disturbances as well as painful spasms. Bergamot is also used in the treatment of all kinds of infections owing to its strong antiseptic properties.
How to Use Bergamot Essential Oil
For nervous indigestion: Combine 1 teaspoon carrier oil with 2 drops of Bergamot essential oil 2 drops of German Chamomile essential oil 2 drops of Fennel essential oil.
Massage the entire abdominal area with this blend, preferably at night just before going to bed.
For the urinary system: Bergamot essential oil blends amazingly well with Lavender and Tea Tree oils, which are powerful disinfectants by themselves.
Mix 3 drops each of these oils to 1 cup of organic, plain yogurt and prepare a sitz bath by filling a tub with enough warm water to cover your hips.
Add the mixture to it, swish it well and sit in the bath for about 10 minutes.
Repeat this every day for at least a week to get rid of the nasty symptoms.
For depression and anxiety: To kick start your day on a positive note, put 5 drops of Bergamot oil on a dry washcloth and place this on your chest while taking a hot shower.
Inhale the vapors and feel the positive energy charge up your body. With each deep breath, all those feelings of depression, anger and frustration will simply melt away.
Even when you are not at home, keep a bottle of Bergamot essential oil handy. Place a few drops on a piece of paper towel (it works better than a tissue) and sniff it from time to time to refresh your mind.
Whenever you are feeling down and out, the fresh, citrus burst of Bergamot will help relieve stress and promote a positive outlook towards life. By re channeling negative emotions, Bergamot helps restore optimism, motivation, and hope.
Safety
Do not apply to skin to be exposed to sunlight or ultraviolet light; it increases the skin's photosensitivity. it may irritate sensitive skin.
Methods of Use
*This statement has not been evaluated by the Food and Drug Administration. This product is not intended to diagnose, treat, cure or prevent disease
Scientific Name:Citrus bergamia
Country of Origin:Italy
Part of the Plant:Peel
Available Sizes
0.35 fl oz - 10mL (0) 1 fl oz - 29mL (21) 1.72 fl oz - 50mL (63) 3.5 fl oz - 100mL (136.5)
We, at Aromandina, are dedicated to providing the purest and highest quality essential oils to our clients. All our essential oils come from organic or wild crafted sources which means that they are 100% free from harmful chemicals, pesticides, heavy metals and preservatives. We adhere to environmentally sustainable methods in all our processes. Essential oils from Aromandina are of the highest grade which renders them fit, safe and effective for therapeutic use.All of our essential oils are carefully screened for authenticity, purity and quality. We put in a lot of time and effort to keep up our promise of delivering nothing less than the best to our clients.