Eucalyptus Radiata Essential Oil
90028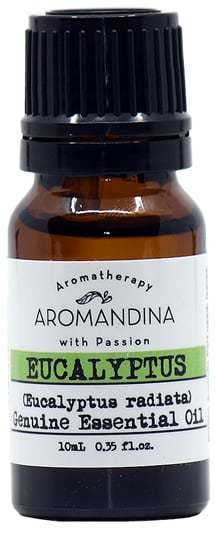 About Eucalyptus Essential Oil
The health and medicinal benefits of the oil are widely known, it is being used in numerous natural remedies, conventional medicine, personal care and commercial products.
Eucalyptus oil is a powerful antiseptic, analgesic, antipyretic, antiviral, decongestant, antibacterial, anti-inflammatory and antispasmodic. Its primary component, cineole, is used in rubs, pain balms, and inhalers. Few people know this, but Eucalyptus essential oil works wonderfully as a safe and natural insect repellent – especially for babies and pets.

Eucalyptus Essential Oil and the Mind

Energetic
Stimulating
Opens the heart
Sheltering
How To Use Eucalyptus Essential Oil

For respiratory problems: As a decongestant and expectorant, Eucalyptus helps clear mucus from respiratory passages. It is the first oil of choice when you suffer from sinusitis, laryngitis, bronchitis or nasal congestion. Its antibacterial and antiviral properties may fight against infections and prevent them from spreading, thus supporting the immune system.
A few drops of Eucalyptus oil inhaled with steam or rubbed across the chest and back (diluted in a carrier oil), can work wonders.
If you have a painful sore throat, gargle with 5 drops of eucalyptus oil diluted in 1 glass of warm water for instant relief.
For muscular and rheumatic pain: Combine 3 drops of Eucalyptus with 1 tablespoon carrier oil and massage over affected areas to get relief from aches, sprains, ligament injuries, muscular fatigue, rheumatic arthritis, fibrosis and nerve pains.

For domestic use: Eucalyptus essential oil works fabulously as an all-natural floor/surface cleaner and air freshener. It deodorizes the house and kills disease-causing organisms. To keep your house smelling fresh and squeaky-clean all the time just plug it into an electrical diffuser or add some to your cleaning water. You may even add a few drops to your laundry for heavenly smelling clothes.
For emotional healing: The cool, refreshing scent of Eucalyptus has a positive and uplifting effect on the mood. On the other hand, its "cleansing" nature purges all negative emotions, particularly those that make us feel constricted or limited in our surroundings. It is recommended for those who haven't let go of grief because it helps release repressed feelings and encourages one to be more open and "move out" of a negative state.
Methods of Use
Dilute in carrier oil to apply topically
*This statement has not been evaluated by the Food and Drug Administration. This product is not intended to diagnose, treat, cure or prevent disease

Scientific Name:Eucalyptus radiata
Country of Origin:Australia
Part of the Plant:Leaves
Available Sizes
0.35 fl oz - 10mL (0) 1 fl oz - 29mL (12) 1.72 fl oz - 50mL (36) 3.5 fl oz - 100mL (78)
We, at Aromandina, are dedicated to providing the purest and highest quality essential oils to our clients. All our essential oils come from organic or wild crafted sources which means that they are 100% free from harmful chemicals, pesticides, heavy metals and preservatives. We adhere to environmentally sustainable methods in all our processes. Essential oils from Aromandina are of the highest grade which renders them fit, safe and effective for therapeutic use.All of our essential oils are carefully screened for authenticity, purity and quality. We put in a lot of time and effort to keep up our promise of delivering nothing less than the best to our clients.
From Our Blog