Helichrysum Essential Oil
90042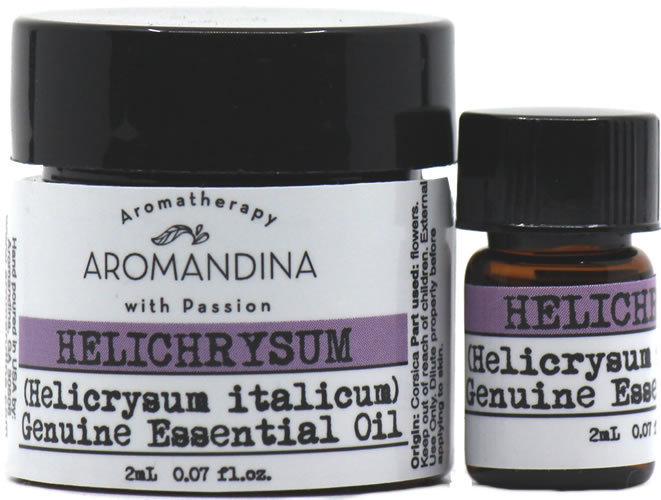 About Helichrysum Italicum
Helichrysum Essential Oil is essential for your medicine cabinet and your life in general. It helps to relieve headaches, migraines, and muscle pain. Its strong antispasmodic and expectorant properties can benefit chronic coughs and asthma. With anticoagulant properties, it is useful in the treatment of bruising. Great for abscess, acne, burns, wounds, etc.
The word Helichrysum comes from the Greek helios = sun, and chrysos = gold, the oil has proven to be as powerful as the sun, and as valuable as gold, at least to me.
Dr. Schnaubelt attests to its great antiseptic powers without the pain and burning associated with disinfectants. He also advocates its use to reduce pain and swelling, saying that
"Helichrysum italicum works for all conditions in which inflamed tissue needs to be calmed down and regenerated". [1]
One of the components of helichrysum is Beta-Diones which is not toxic for people and has anticoagulant properties, making it very effective for the treatment of hematomas.

Helichrysum essential oil has a very positive effect on emotions, when there is an enduring anger, bitterness or resentment. According to Gabriel Mojay, "Everlasting oil's capacity to dissolve clots give it on a subtle level, the power to break through the deepest, most "stuck" of negative emotions

How to use Helichrysum essential oil
For hematomas: Helichrysum is known for its ability to dissolve blood clots and promote healing of surrounding tissues. Apply this oil neat (undiluted) over the affected area every day.
For cuts and burns: Helichrysum possesses anti-inflammatory and tissue-regenerating properties. Apply a couple of drops neat on the affected area to soothe the irritated skin and aid healing.
You can make your own Everlasting Oil blend by adding 10 drops of Helichrysum to 1 oz of any carrier oil such as Jojoba. This blend is useful for treating many common ailments.
For headaches: Rub a few drops of the blend between your fingertips and massage your temples and back of the neck with it.
For asthma and bronchitis: Massage some of the blended oil onto your chest.
For irritable bowels: Massage your lower abdomen with the blend twice a day.
For pain relief: Massage the blended oil into sore muscles and inflamed joints using circular motions.
For skin care: With your fingertips, apply a few drops of the blended oil onto clean, dry skin. Use light pressure and slow press-and-release movements. The oil nourishes the skin and is very effective against wrinkles.
For Anxiety and Depression: Before going to bed, apply the blended oil to your solar plexus, and allow all negative emotions to be released. Helichrysum oil can help heal deep psychological wounds and emotional scars.
Helichrysum essential oil therapeutic properties:
Anti-Spasmodic: Helps in relieving headaches, migraines, asthma, bronchitis and irritable bowels.
Anti-Haematoma: Helps in dissolving blood clots and aids healing of the surrounding tissues.
Anti-Inflammatory: Very effective in treating cuts, burns, infections and rheumatoid arthritis.
Cicatrisant: This property makes your wounds and cuts heal, and scars disappear. It is equally effective on spots left on your skin by pox, boils, etc.
Cytophylactic: It encourages recycling of dead cell and production of new cells. This property can be particularly beneficial for skin care, especially when used in rejuvenating facial oils.
Relaxant and Anti-Depressant: Curbs negative emotions and stimulates positive thoughts and actions.
Emotional Healing

Calming
Positive
Uplifting
Methods of Use
*This statement has not been evaluated by the Food and Drug Administration. This product is not intended to diagnose, treat, cure or prevent disease
Scientific Name:Helychrisum Italicum
Available Sizes:2ml - 0.07 fl.oz
We, at Aromandina, are dedicated to providing the purest and highest quality essential oils to our clients. All our essential oils come from organic or wild crafted sources which means that they are 100% free from harmful chemicals, pesticides, heavy metals and preservatives. We adhere to environmentally sustainable methods in all our processes. Essential oils from Aromandina are of the highest grade which renders them fit, safe and effective for therapeutic use.All of our essential oils are carefully screened for authenticity, purity and quality. We put in a lot of time and effort to keep up our promise of delivering nothing less than the best to our clients.