Holiday Blend Essential Oil
85007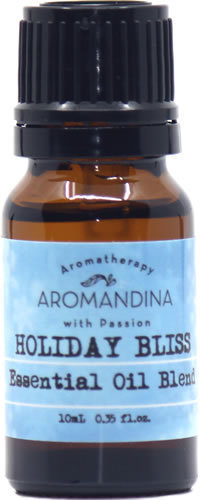 About Holiday Blend Essential Oil
Create a memorable experience during this season with Aromandina's Holiday Bliss Essential Oil. One deep breath brings all the scents of the season, and you will be filled with memories along with the joy, warmth and good cheer of the holidays.
Engulf yourself in the warmth of Cinnamon and the freshness of Peppermint. The undertones of Fir and Spruce bring back cozy memories of winter and remind you of tranquil walks in the woods. Frankincense calms the senses while Sweet Orange nourishes the heart and uplifts the mood.
Ingredients
Sweet Orange (Citrus sinensis) Essential Oil: Nourish your heart with its sweet and uplifting scent.
Spruce (Picea mariana) Essential Oil: Its stimulating properties help to spruce up your mood.
Fir (Abis Alba) Essential Oil: Its cleansing, refreshing and restoring qualities remind us of the crisp and tranquil walk in the woods.
Frankincense (Boswellia Frereana) Essential Oil: Elevating, wise and spiritual; helps to bring us to a meditative state.
Peppermint (Mentha piperita) Essential Oil: Freshness, upliftment, and vitality.
Cinnamon (Cinnamomum zeylanicum) Essential Oil: A touch of spice to your life, warming and welcoming.
Methods of Use

*This statement has not been evaluated by the Food and Drug Administration. This product is not intended to diagnose, treat, cure or prevent disease
Available Sizes:0.35 fl oz - 10 mL
Available Sizes
0.45 fl oz - 10mL (0) 3.5fl oz - 100mL (143) 1 fl oz - 29mL (22)
We, at Aromandina, are dedicated to providing the purest and highest quality essential oils to our clients. All our essential oils come from organic or wild crafted sources which means that they are 100% free from harmful chemicals, pesticides, heavy metals and preservatives. We adhere to environmentally sustainable methods in all our processes. Essential oils from Aromandina are of the highest grade which renders them fit, safe and effective for therapeutic use.All of our essential oils are carefully screened for authenticity, purity and quality. We put in a lot of time and effort to keep up our promise of delivering nothing less than the best to our clients.