Jasmine Essential Oil
90046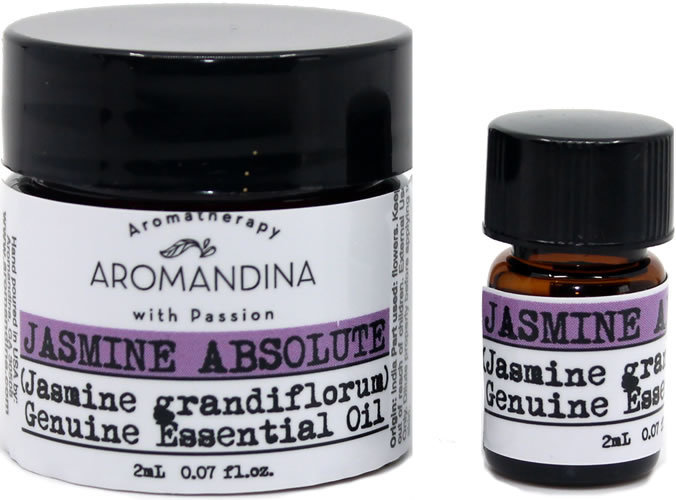 About Jasmine Absolute
It assists with depression and helps provide a restful sleep. Very effective for nervous anxiety, restlessness, and depression.
Jasmine is beneficial for dry and sensitive skins.
It has a stimulating, uplifting effect and is excellent for depression, and people lacking in confidence.
It is a valuable uterine tonic, for menstrual pain and cramps. jasmine has a reputation as an aphrodisiac, due to its relaxing, antidepressant effects.
Jasmine Absolute and the Mind
Euphoric
Sensual
Welcoming
Intuitive
Soothing
How To Use Jasmine Absolute
For skin care: For dry, irritated, sensitive skin. Combine 15 drops of Jasmine, 10 drops of Frankincense and 10 drops of lavender with 4 oz of Jojoba Oil. Use it as your moisturizer day and night.
For romance: Aphrodisiac. Combine with ylang ylang and cardamom and use it in a diffuser in your bedroom.

For the genito-urinary system: Dysmenorrhoea, labor pains, uterine disorders. Add 5 drops to Women's Help Body Oil and massage your abdomen and lower back.

For nervous system: Depression, nervous exhaustion, and stress-related conditions. Use in a diffuser, combined with Clary Sage, Orange, and Grapefruit.
Methods of Use
Scientific Name:Jasminum grandiflorum
Country of Origin:India
Part of the Plant:Flower
We, at Aromandina, are dedicated to providing the purest and highest quality essential oils to our clients. All our essential oils come from organic or wild crafted sources which means that they are 100% free from harmful chemicals, pesticides, heavy metals and preservatives. We adhere to environmentally sustainable methods in all our processes. Essential oils from Aromandina are of the highest grade which renders them fit, safe and effective for therapeutic use.All of our essential oils are carefully screened for authenticity, purity and quality. We put in a lot of time and effort to keep up our promise of delivering nothing less than the best to our clients.