Memoria Essential Oil Blend
60062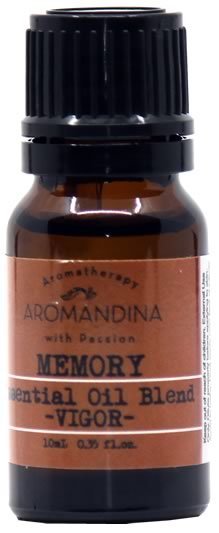 About Memoria (MEMORY) Essential Oil Blend
Benefits of Memory Essential Oil Blend:

- Nurtures and supports the brain and nervous system. Awakens a dull mind and dispels tensions and worries during challenging times.

- It's refreshing and pungent smell works like a power boost for a fatigued mind, making it more sharp and alert.

- Instills confidence during periods of self-doubt and keeps motivation levels high when the going gets tough. Also makes one more welcoming of new ideas.
Concentration , Attention, Focus. Improve your memory with this selection of most effective essential oils to stimulate the brain. Great to use with children and elderly people.
Ingredients
Spearmint (Mentha spicata) Essential Oil: restorative, strengthens memory, stimulates the mind. Recommended for depression and mental fatigue
Peppermint (Mentha piperita) Essential Oil: stimulates nerves and brain, improves concentration and study.
Helps become more clear-headed and may be beneficial for people who are unable to concentrate.
Cardamom (Elettaria cardamomum) Essential Oil: fortifying, tonic of brain and nervous system. Cephalic and gentle tonic of the nervous system.
Rosemary (Rosemarinus officinalis) Essential Oil:clears the mind, sharpens the memory and boosts the nervous system. It is reputed to be a brain stimulant and is used for poor concentrationand nervous debility.

Methods of Use
Safety:
Do not take baths with this blend as it may be irritant for your skin.

Do not apply on or near the face of infants or children under 5 years old.


*This statement has not been evaluated by the Food and Drug Administration. This product is not intended to diagnose, treat, cure or prevent disease
Available Sizes
0.35 fl oz - 10mL (0) 1 fl oz - 29mL (21) 1.7 fl oz - 50mL (63) 3.5 fl oz - 100mL (136.5)
We, at Aromandina, are dedicated to providing the purest and highest quality essential oils to our clients. All our essential oils come from organic or wild crafted sources which means that they are 100% free from harmful chemicals, pesticides, heavy metals and preservatives. We adhere to environmentally sustainable methods in all our processes. Essential oils from Aromandina are of the highest grade which renders them fit, safe and effective for therapeutic use.All of our essential oils are carefully screened for authenticity, purity and quality. We put in a lot of time and effort to keep up our promise of delivering nothing less than the best to our clients.
From Our Blog