Summer Blend
85004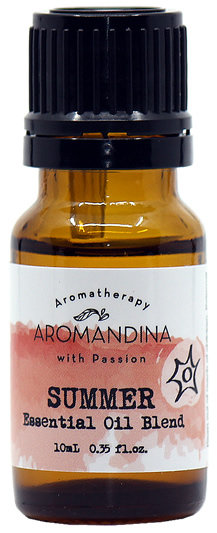 About Summer Blend
Beat the summer heat and enhance clarity and focus with our Summer Essential Oil Blend.
To help you make the most of this delightful season, we offer this invigorating mix of Spearmint and Lemongrass essential oils. The Aromandina Summer Essential Oil Blend is just what you need to keep yourself in top shape when the mercury rises.
There are several ways to use this amazing blend on a day to day basis. For example, after a long tiring day outdoors, pour 5 drops of this blend into a bowl full of iced water, soak a towel in it, wring it out and wipe your skin with it.
If you are going to work or play outdoors for a prolonged period, simply wrap the wet towel around your neck to regulate your body temperature and prevent exhaustion and heat strokes!
This summer, keep your mind free of useless thoughts and revel in the breeze of coolness that the Aromandina Summer Essential Oil Blend brings.

Main Ingredients
Spearmint (Mentha spicata) Essential Oil: Spearmint has natural cooling properties that help you stay calm and keep "hot" emotions like anger frustration and irritability at bay. It also enhances alertness and concentration, especially when the heat begins to get to you.
Lemongrass (Cymbopogon citratus) Essential Oil: Lemongrass has a refreshing scent that acts as a stimulant for the entire body, keeping you energetic and active all day long. It also promotes mental clarity and balance. Lemongrass is also known to possess antimicrobial and antifungal properties, which make it an excellent skin tonic and natural deodorant for hot summer months.
Methods of Use
*This statement has not been evaluated by the Food and Drug Administration. This product is not intended to diagnose, treat, cure or prevent disease
Available Sizes
0.35 fl oz - 10mL (0) 1 fl oz - 29mL (20) 1.72 fl oz - 50mL (60) 3.5 fl oz - 100mL (130)
We, at Aromandina, are dedicated to providing the purest and highest quality essential oils to our clients. All our essential oils come from organic or wild crafted sources which means that they are 100% free from harmful chemicals, pesticides, heavy metals and preservatives. We adhere to environmentally sustainable methods in all our processes. Essential oils from Aromandina are of the highest grade which renders them fit, safe and effective for therapeutic use.All of our essential oils are carefully screened for authenticity, purity and quality. We put in a lot of time and effort to keep up our promise of delivering nothing less than the best to our clients.